Stampin' Up! has evaluated the comments on Paper Pumpkin (good and bad) and addressed the issue of content in the upcoming monthly kits.  At Leadership in Houston last week, we got to see the February and March kits, and there is definitely an improvement in value.  SU! will also be putting photopolymer stamps in the Paper Pumpkin kits in upcoming months.
To encourage new subscribers, SU! is offering a pack of 2012-2014 In Color Markers with a new subscription.  This is a $14.95 value, so that alone makes it worth it to give Paper Pumpkin a try.  You can cancel at any time if you are not satisfied.  The marker offer is only for NEW subscribers; former subscribers are recognized by email address.
If you are a former subscriber and you join again under the same email address, you will not receive the Welcome kit that you already have, and you will not receive the free markers.  However, anyone signing up under a new email address will receive the free markers along with the Welcome kit.  Details below.  Click on the Paper Pumpkin button in the left column if you would like to join.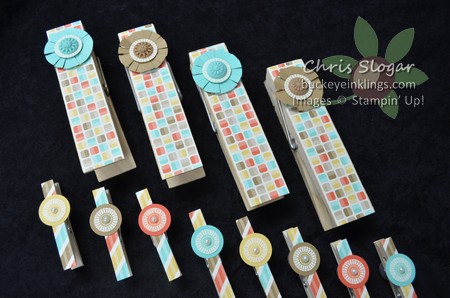 I also wanted to share these pictures of clothespins I decorated for the teammates I was with at Leadership.  Sorry the lighting was not great for these pictures – that's what happens when you finish a project at night and need to pack before daylight 🙂  I couldn't take advantage of natural light!
I diluted tacky glue with water and then applied it with a sponge brush to attach the designer paper to each clothespin.  I did not sponge over the designer paper because I wanted to preserve the true colors and feel of the paper.  The little clothespins have magnets on the back.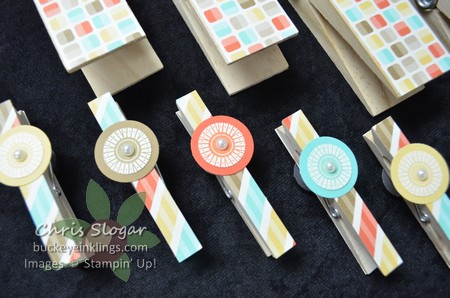 Even if you don't need any covered clothespins, please notice the little stamped circles.  Do you recognize that pattern?  That is one of the flowers of Mixed Bunch, and it looks so different and trendy punched with a circle punch.  Thank you to Mary Jane for finding and sharing this idea at Open House!