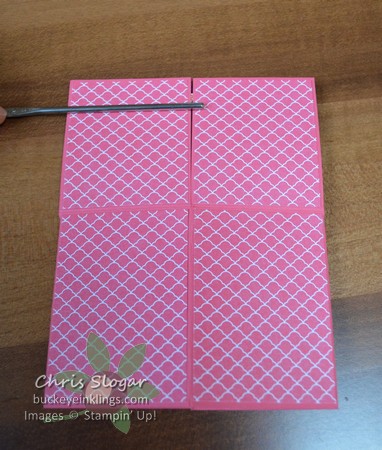 Your recipient will never expect this flat card to pop up into a little flower arrangement for display.
This is one of the Card in a Box cards we made yesterday in Stamp Club.  The construction of the box is easier than it looks, and I followed the directions at splitcoaststampers.com for this box that folds flat to fit in an A2 envelope (under Variations).  You can see those directions here.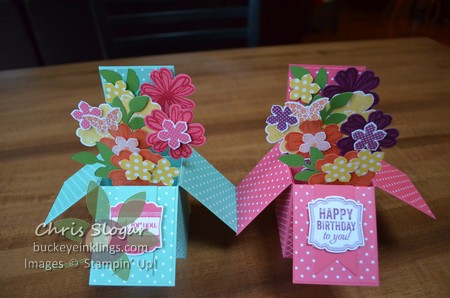 We made them in two colors – here is a closer look at the Coastal Cabana version.
In either color, most of the flowers are attached directly to the cardstock – the exceptions are the butterfly and the flower that are attached to the first divider.  Those are attached with glue dots to 1/2″ strips of Window Sheet, which are attached to the divider with glue dots.
For more ideas, you can see the Card in a Box designs that I posted last week here.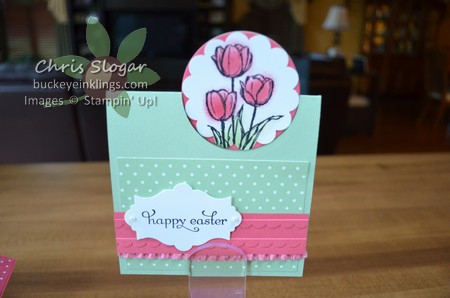 We also made a flat card, a CASE of a card I saw by LeeAnn Greff.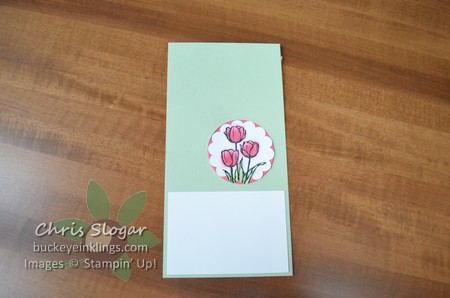 Here is what is looks like opened up.  I used a circle framelit to cut half a circle in the card, creating the pop up semi-circle shape where the tulips are mounted.  Here's how to make the base: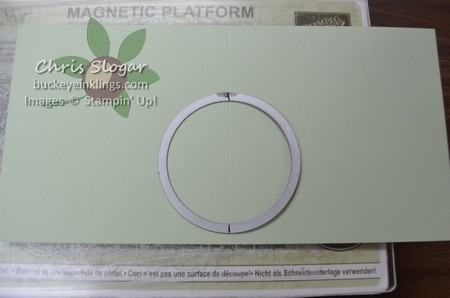 The card base is 8 1/2″ x 4 1/4″, scored in half at 4 1/4″.  I lined up the middle of the 2 3/8″ circle framelit with the score line.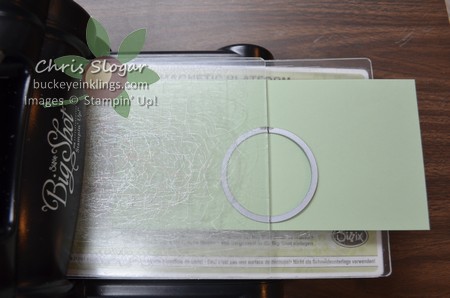 To only cut half, I aligned my acrylic plate with the same score line so that pressure would only be applied to that point.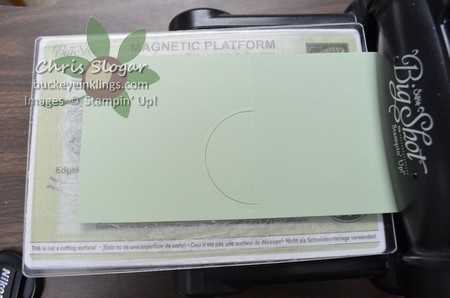 This is the cut that results.  I folded along the score, except at the circle to create the pop-up section.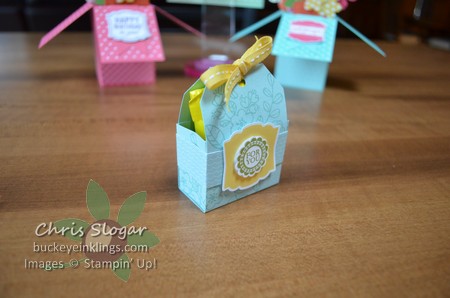 And finally, this cute favor holds a little Reese's egg, but you can modify the length of the wrap to fit other treats.  The wrap piece measures 2″ x 6 1/2″, scored at 2 3/4″ and 3 3/4″.  Each end of the wrap is punched with the Angled Tag Topper.  The end pieces are 1 1/2″ squares, scored on two opposite sides at 1/4″.  They are attached to the wrap with sticky strip.
Thank you for checking out my club projects!  Club meets once/month on Sunday, and there is still a permanent spot available in each of my club sessions – 2 pm and 6:30 pm.  We are just getting into our new session.  If you join in May as a member, you can still receive a free stamp pad and Hostess benefits at one meeting.  If the spots are not taken by a permanent member, they will be open to guests.  Contact me for more details.