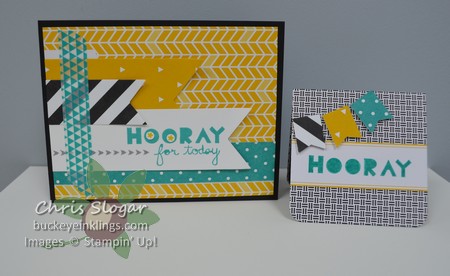 And Hooray for all of this yummy coordination!  There is a group of Project Life items already available, ahead of the release of Stampin' Up!'s full line of Project Life products in the upcoming Annual Catalog.  I was so anxious to play with these pre-order goodies that I ripped into them, without any printed photos to insert into the scrapbook pages.
The accessories and cards coordinate perfectly with Stampin' Up! colors and designs.  Coordination is great, but it gets better…every card in the Card Collection is different.  No duplicates!  You are essentially getting 100 different pieces of thick designer paper.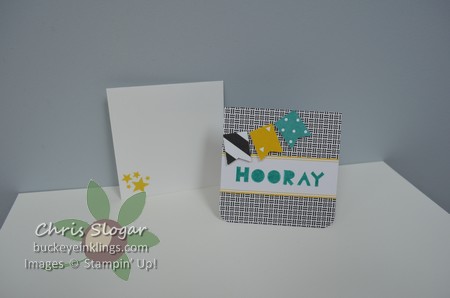 I made this 3″x3″ card by cutting one of the 4″x6″ cards down to 3″x6″, scoring and folding.  I finished it with a few banners and stamps.  I used Kaleidoscope designer paper to punch my banners, but you could also use some of the cards from the collection.  You could also use embellishments from the accessory pack.  Here's a look at the inside: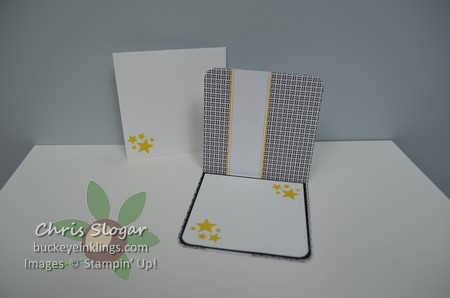 By the way, I did not color the word Hooray to stamp it.  I inked the whole stamp on my pad and then covered the part I didn't want to see with tape.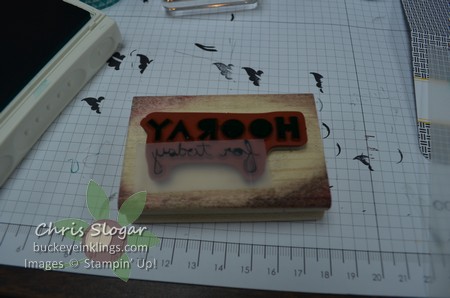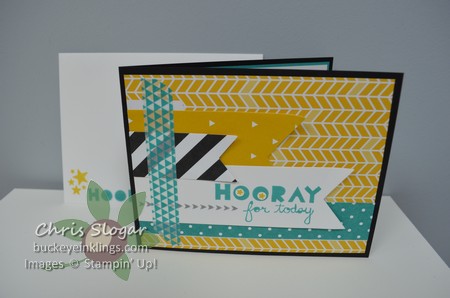 Here's a better look at the other card.  I punched those little stars in the "o"s with the bigger punch on my Crop-o-dile.  The pennants are only attached to the card on the left side, under the Washi Tape.
The list of items available now is shown below.  Please contact me if you have any questions.  Next time I show Project Life, I will try to have some scrapbook pages done!!  🙂
Item

Description

Price

135294

Variety Pack 12″ x 12″ Project Life Photo
Pocket Pages
12 pages: 2 ea. of 6 designs.

$6.95
135298

Everyday Adventure Project Life Card Collection
100 double-sided, color -coordinated cards in 3 sizes:
4″ x 6″, 4″ x 4″, and 3″ x 4″

$15.95
135301

Everyday Adventure Project Life Accessory Pack
4 3″ x 4″ specialty cards; 8 sticker sheets;
1 acetate accents sheet; 8 wood accents;
2 epoxy stickers; 4 arrow paperclips;
1 roll washi tape (5 yds.)

$9.95
135304

Project Life Journaling Pens
2 pens (01 and 05)

$4.95
135346

Project Life Corner Punch

$7.95
135707

Cards & Labels Project Life Framelits Dies
5 dies

$24.95
135785

Project Life Day to Day Photopolymer Stamp Set
42 stamps

$25.95
136706
Project Life Au jour le jour (Day to Day Set in French)
$25.95
135787

Project Life Point & Click Photopolymer Stamp Set
26 stamps

$15.95