I have two Project Life projects to show you today, but I am putting them into two separate posts so that the card that I am entering in a challenge will not get lost – it will be in the next post.  When I posted a Project Life card on Saturday (click here to see it), I promised I would use Project Life as designed the next time I showed it.  Throwback Thursday seems appropriate for that.
We are in "crunch time" for memory projects at my house.  I am compiling some memory books for Jen as we approach graduation.  I have not been the best scrapbooker (scrapper?) over these past 18 years, so I am getting some help now from Project Life and My Digital Studio.  Today, I would like to show you some pages I put together with my Project Life products.  These two pages went together in under 15 minutes.  The hardest part was deciding which of the cute cards to slip into the pockets alongside the pictures!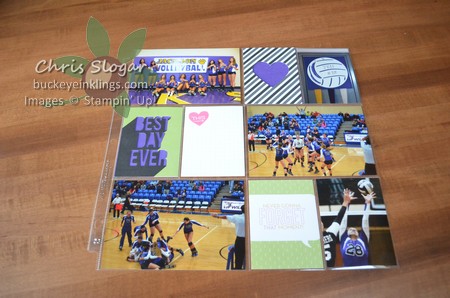 If I had to guess, the two most memorable days of my daughter's high school career would be the day they advanced to States in Volleyball and the day they went to States.  I am including these picture pages in a scrapbook with pages of newspaper clippings about those games.  The bright picture pages steal the show!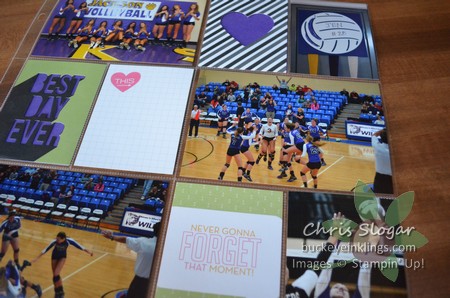 Here is a closer look at the cards from the Everyday Adventure Collection that slip into the pockets.  I am going to have Jen write her thoughts on the card in the middle.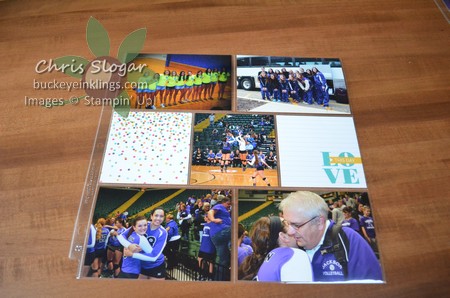 Here's a look at another page type.  The pages with 4″ squares are exclusive to Stampin' Up!  These collections provide instant gratification.  At our premier event, someone said that this is called "Project Life" because it frees up time so that you can live your life!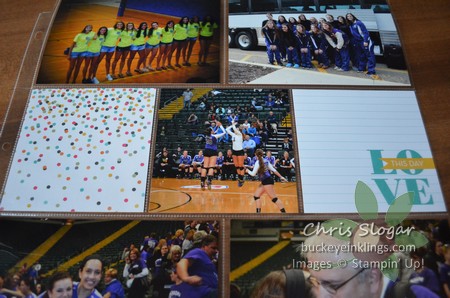 Here's a closer look at these cards.  Again, I will have Jen fill in her thoughts on the lined card.  She can even add stickers as she pleases.  There are word bubbles, arrows, hearts and more.  The colors coordinate with our inks and papers, and here's the best thing (imo)…every card is different!  No repeats!  I do believe I will be using every one of them in my pages or my other projects.  Since they match our color collections, I have already been using them on cards.
There is a limited group of Project Life products available now, ahead of the June 2 release of our full line.  Click here to see my previous post for those details, or use the Shop Now button to see them in the store.