Click here to see this week's Weekly Deals.
One of our Stamp Club projects this month was this little file folder for a gift card.  The envelope punch board is a great tool for making these file folder tabs.
The ribbon is not attached on the inside, so the gift card slides right under it.  I also added an oval on a dimensional so the gift card cannot slip out.
The finished card is 3 1/2″ x 4 3/4″, and it fits nicely in our note card envelopes, or you can make an envelope to match.
To create the file folder card start with a 6 3/4″ x 4 3/4″ piece of cardstock, scored at 3 1/4″.  Attach  a piece of designer paper, 3 1/4″ x 4 3/4″, to the front (the smaller side) and attach a piece of Whisper White, 3 1/2″ x 4 3/4″, to the inside.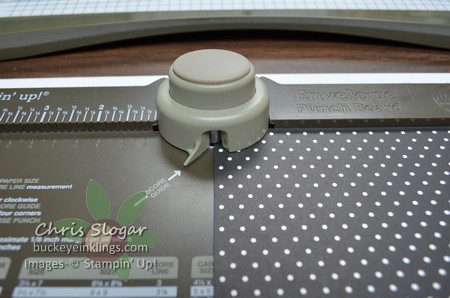 To make the tabs, starting at the upper left corner of the front of the file folder, punch at the very edge of the card as shown in the picture.  Slide the card over to the 2 3/4″ mark and punch again.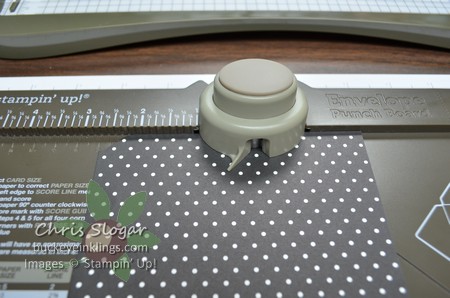 ROTATE the cardstock 180° (do not flip over!) and punch the back of the file folder in the same manner – punch at the edge, then slide over and punch at 2 3/4″.  (The picture below shows the edge punch already done.)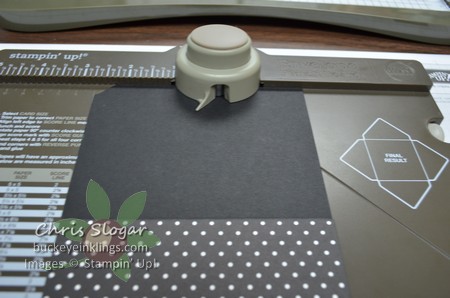 Slice off the excess along the tab edges on the front and back (front shown) and round the sharp corners with the corner rounder on the envelope punch board.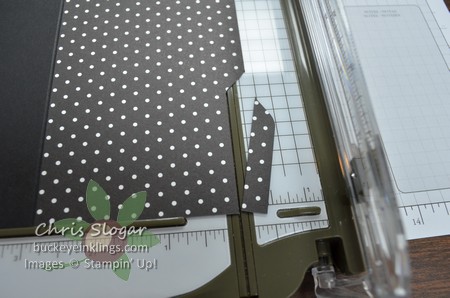 You can decorate these as desired – they don't have to be graduation cards.  I used a greeting from the Blue Ribbon stamp set on each of the cards shown below.  The little greetings on the tabs are from Teeny Tiny Wishes.