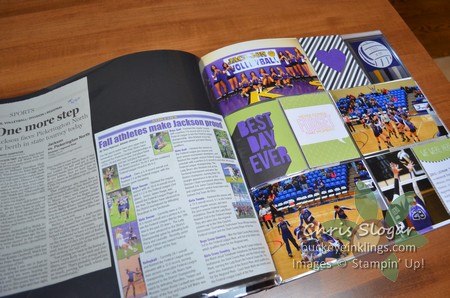 My daughter's graduation has pressured me to get our memories organized!  LOL!!  In yesterday's post, I showed the digital scrapbooks I created in a short period of time.  Today, I have another memory keeping solution to show – my "Project Life Solution."
I had a bunch of clippings to organize from Jen's years in volleyball, and of course, pictures!  Finding myself pressed for time again, I organized the pictures into our new Project Life pages.  I sprinkled these pages into a book alongside clippings.  I like the contrast between the bright photo pages and the black and white clipping pages.
Just for the record…Project Life pages are actually meant to be in a three-ring binder.  Since I already had a post binder started with clippings, and I wanted the pictures alongside the articles, I went this route, and it turned out great!  Project Life is easygoing like that 🙂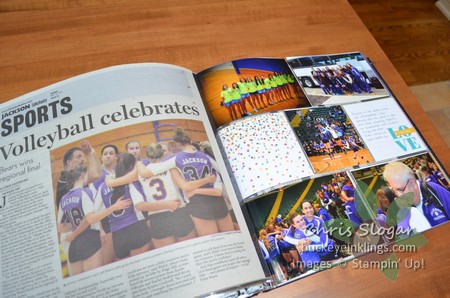 In some time periods, the pictures outnumbered the clippings, so there are several Project Life pages in a row.  Jen picked out and wrote the cards – fun, easy and personal!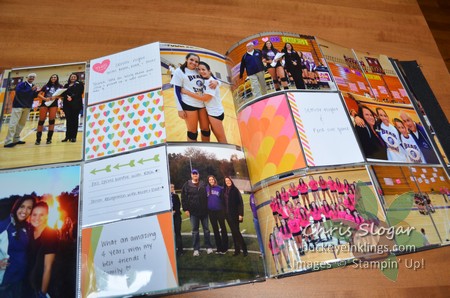 You can see a list of what is currently available in our Project Life offerings below, but check the store on June 2 when our full line is available.  The cards, accessories and stamps are great for other papercrafting projects, too.
Item

Description

Price

135294

Variety Pack 12″ x 12″ Project Life Photo
Pocket Pages
12 pages: 2 ea. of 6 designs.

$6.95
135298

Everyday Adventure Project Life Card Collection
100 double-sided, color -coordinated cards in 3 sizes:
4″ x 6″, 4″ x 4″, and 3″ x 4″

$15.95
135301

Everyday Adventure Project Life Accessory Pack
4 3″ x 4″ specialty cards; 8 sticker sheets;
1 acetate accents sheet; 8 wood accents;
2 epoxy stickers; 4 arrow paperclips;
1 roll washi tape (5 yds.)

$9.95
135304

Project Life Journaling Pens
2 pens (01 and 05)

$4.95
135346

Project Life Corner Punch

$7.95
135707

Cards & Labels Project Life Framelits Dies
5 dies

$24.95
135785

Project Life Day to Day Photopolymer Stamp Set
42 stamps

$25.95
136706
Project Life Au jour le jour (Day to Day Set in French)
$25.95
135787

Project Life Point & Click Photopolymer Stamp Set
26 stamps

$15.95