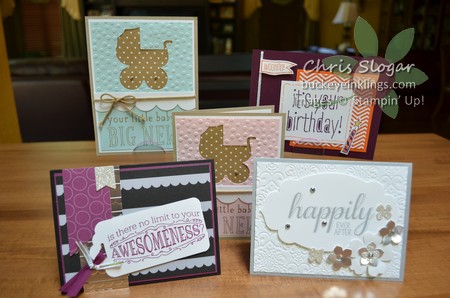 I am often asked to list my favorite stamp sets, but it takes me a while to work with a set before I know if it is a favorite.  I am going to feature my tried-and-true favorites from the 2014-2016 Annual Catalog each month in a "Class To Go".  You will be able to find the "Classes to Go" on the menu bar.
My early favorite from the 2014-2015 Annual Catalog is "Big News".  It lives up to its name – it is a big set!  It is so big that it is all you need for several occasions.  Not only do you get the big greeting that you see on these card fronts, but each also has a sentiment on the inside.  The images from this set are shown below.
Big News       Item 134015 $43.95 (W), Item 134018 $31.95 (C)
The "Class To Go" includes the stamp set in your choice of wood or clear-mount and cardstock and embellishments to make two of each of the cards shown (one pink and one blue in the case of the baby card), just add your own ink and adhesive.  Each card comes with a Whisper White mat for the inside of the card and an envelope.  You will also receive pictures and instructions to make the cards as shown.
Big News To Go (W)  $58 + $5.80 Shipping
Big News To Go (C)  $43 + $5.80 Shipping
Please email me at buckeyeinklingsorders@gmail.com if you would like to order.  In order for me to have time to receive your stamp set, please allow two weeks for delivery.