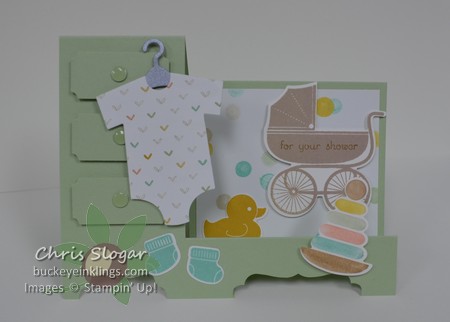 This was one of our Stamp Club projects this weekend – a stair step card using the stamp set "Something for Baby", Baby's First Framelits and Lullaby designer series paper.  It also fits right in with the current Fab Friday Baby Theme challenge in honor of Baby Ian.  Click here to see more entries in this challenge.
Here is a better look at the folds: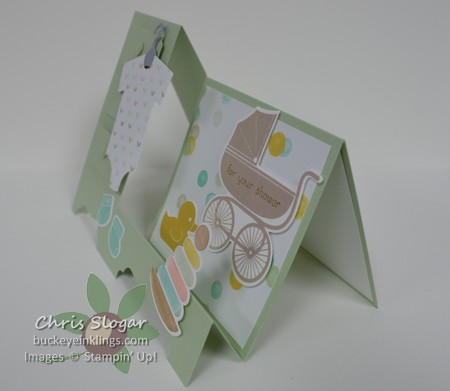 This is a card type that looks much harder to make than it is.  Once you get used to how the card base is cut and scored, you can make these easily.  I copied my notes below to show how to cut and score a 5 1/2″ x 8 1/2″ piece of cardstock to make this dresser base.
The key to creating the base is cutting the line that is marked with the asterisk.  Cut that line first and then score to it from each side.  You can change the width of the peak – it doesn't have to be 2″.  I chose 2″ because it worked well with my Ticket Duo Builder Punch drawers.
Once you have the base, you can decorate as you wish.  I used the Decorative Label Punch to create the trim on the bottom on the dresser, and 1/4″ circles covered with Crystal Effects for the drawer pulls.
There are many variations of this card.  I did a stair step card last week that was scored with additional lines for an additional peak and valley.  It is shown below, along with a cutting diagram for its base.  Click here to see the original post.