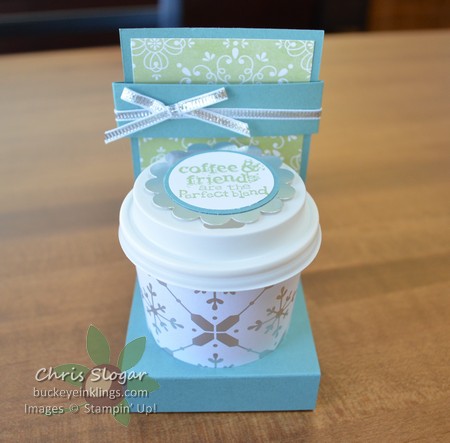 There are so many clever ways to package a gift card.  The majority involve a flat envelope, and that suits me just fine for most occasions.  However, today's project puts a little more emphasis on the packaging, which is a present in itself.
This is a 3D gift card holder that uses a 4 oz coffee cup (I get them at www.webstaurantstore.com).  They are just adorable wrapped with our designer paper!  I have shown them before, but it has been a while.
Are you wondering where the gift card fits in?  Keep scrolling…
The horizontal piece is a band to hold the gift card.  Not only is this fun, it is easy; and let's face it, no matter what your drink preference, hot cups are a universal sign of comfort and happiness – lol.  They are even more irresistible since they are miniature.   🙂
You can see another version in Cherry Cobbler below.  The band is punched with the Confetti Stars punch and I have added a sleeve to the cup.  This designer paper is retired.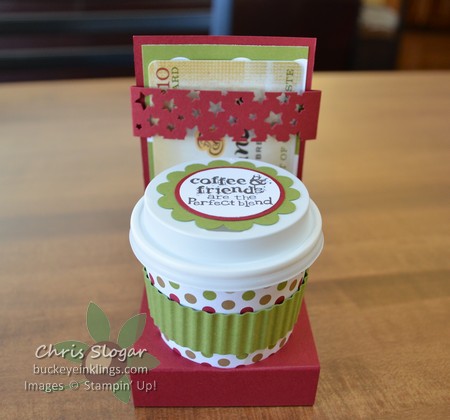 I am guessing that it will take you about 10 minutes to make one of these, once you have the cups.
The base is 2 1/2″ x 11″, scored at 4 1/2″, 7″, 7 3/4″ and 10 1/4″.  While I have the piece on the scoring board, I make a little mark in the section that I am going to punch so that I don't get confused when I pick it up.  That mark is 1 1/4″ from each edge, and it also helps me get the punch centered in that direction. (I hope you can see it just beyond the 7 3/4″ score.)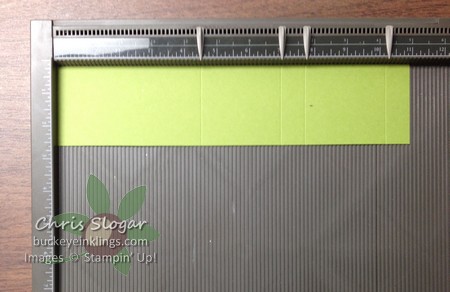 The hole for the coffee cup is made with the 2″ circle punch.  Center the punch across the width using your mark as a guide, but punch closer to the front edge of the base so that the lid will not interfere with the back of the base.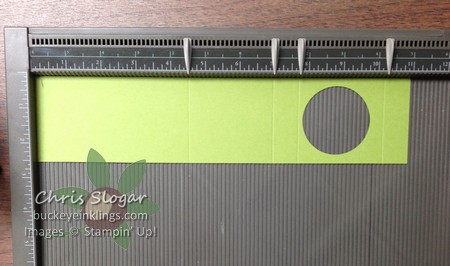 The band is 3/4″ x 6 1/2″, scored at 2″ and 4 3/4″.  The designer paper for the background is 3 1/2″x 2 1/4″.
I am going to put chocolate in my coffee cups, but K-cups also fit.  The picture below shows how I am packaging it for easy gift-giving.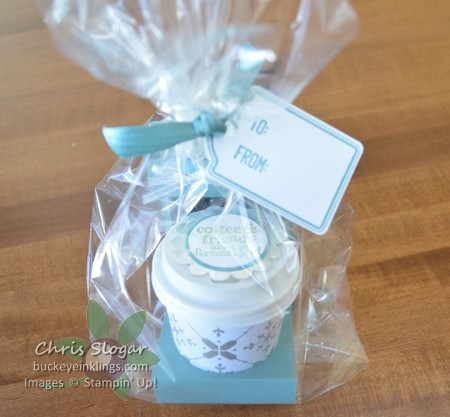 Thanks for looking!