I am a little off schedule because this is a special week for Stampin' Up! demonstrators.  Many of us are at the Leadership Conference in Orlando, soaking up new ideas to bring home.  Well ok, we have actually only picked up our bags and caught up with friends so far, but the sharing starts today.
I am so lucky to be attending with Amy Kunkle and Theresa Custer from my team.  And we are so lucky to be attending with uplines, sidelines and friends that we have met along the way.  It is only the third year for Amy and I, but we both agreed that it seems like we have known these girls much longer than that.  The friendships made at these events are a huge perk to this business!
Here's a peek at the "pillow gifts" I made for Amy and Theresa – safe to show now because they received them last night.  The stamp cases make a fabulous and pretty container, and they travel well!  These are the full size wood-mount stamp cases with a piece of Painted Blooms designer series paper under the clear plastic.  The paper measures 11 1/4″ x 7″.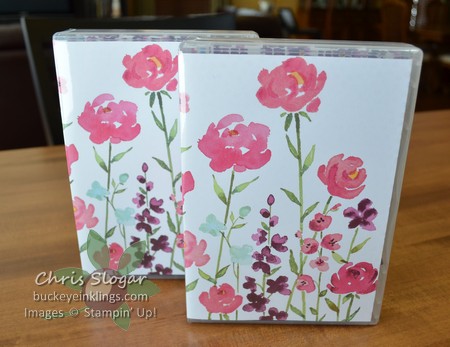 I added notepads, pens, and some other "survival" items.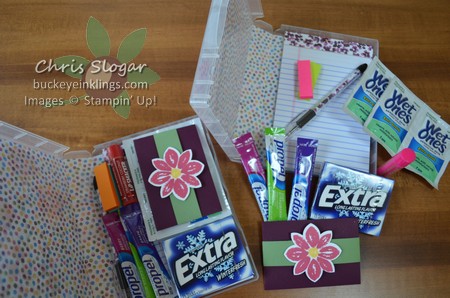 The notepads are cut to 4 1/2″ x 7 1/4″ and wrapped with a 2″ strip of designer paper.  The paper for the pen barrel measures 3/4″ x 3 1/4″.  These are RSVP pens – you can unscrew the end of the barrel to load this paper.  I like to wrap the paper around a skewer first so that it slides in easily.
Check my facebook page for more pictures and details as the conference gets underway.  Demonstrators, remember that you can watch live streaming of certain sessions on the demo site.
Have a great day!