There are very light snowflakes in the air as I write this, but hopefully my projects will convey my frame of mind.  I am ready for Spring!  Today, I want to show you this month's club projects, which were all very seasonal.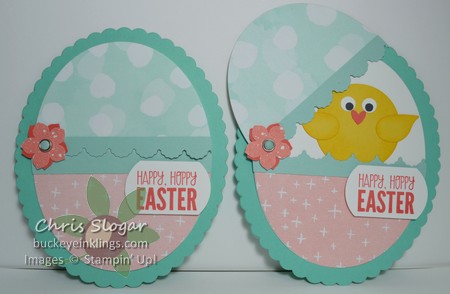 The eggs are made with the largest two oval framelits and Best Year Ever designer paper.  This paper is one of the products you can choose for FREE with a $50 order, but only through March 31st.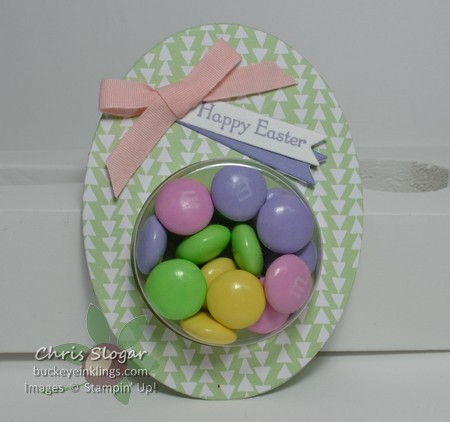 This egg is also made with the oval framelits.  There are 7 oval sizes, and this egg is the middle one – fourth from largest or fourth from smallest.  Our treat cups fit inside the 1 3/4″ circle punch, and the paper is from Confetti Celebration in the Annual Catalog.
And last but not least, this CASE of one of Stampin' Up!'s Artisan's projects…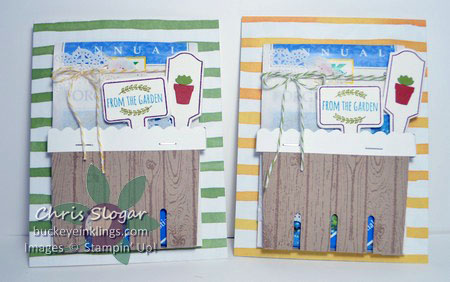 This was a favorite, and it is an exact CASE of Cindy Schuster's lovely design using pieces cut from the Berry Basket Bigz L Die.  It holds a seed packet, wrapped with a doily.  "From the Garden" and Handpicked framelits are just awesome on these spring projects!
I mailed this card to myself as an experiment.  I simply put one card in a regular envelope with no extra postage, and I threw it into a big blue mailbox, just to see how it would fare.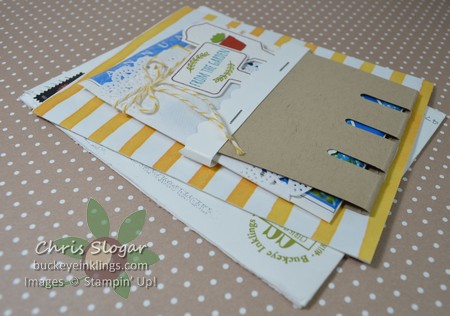 It made it back to me just fine.  The envelope was not damaged or torn, just a little lumpy because of the contents.  As you can see above, the card was in great shape!    The crisp folds at the side of the Whisper White band and at the bottom of the basket were flattened, but we all agreed that it traveled well.  Of course, a padded envelope and hand cancelling would be better, but hey, good to know that you don't have to be fussy about it!
One more sign of spring…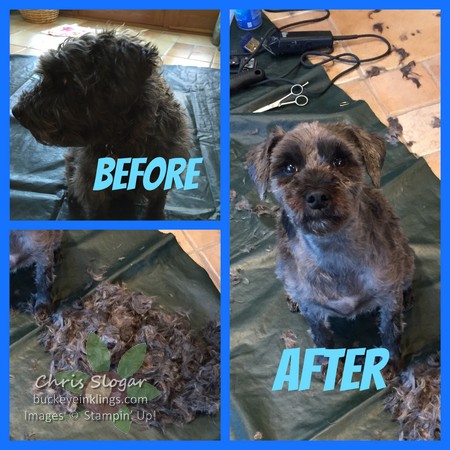 Our new dog!  Not really – it is Chip, with less baggage.  He enjoyed showing off when he was invited to the craft room after clubs and class times this week.  He soaked up the oohs and aahs over how handsome he is.  Poor guy has to wear a coat for his walks, though, since we can't shake the cold temps here in Ohio.
Have a great weekend!