I have a little of everything today…first, a reminder that retiring products are only available through June 2, and many accessories are already sold out.  There are still many great deals available, though, especially in my favorite category – the 50% off tools!
Click here to see the up-to-date Retiring List – an "x" in the far right column means the item is no longer available.
Here are the Weekly Deals…
I also have my Ribbon Shares to announce today.  There will be so many great new ribbons available in the Annual Catalog, and a "share" is a great way to get them all.  Here's how it works – I purchase every color and repackage them into smaller portions so that you can have a great color collection without purchasing full packages of each.
Here's an example of a share from last year: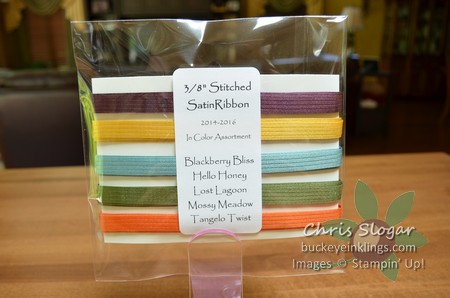 Please email me if you would like to order a share.  I can invoice via Paypal and ship if you are not local.   Shipping is $3 for a single share, $5.80 for any combination of multiples.
I will be placing my first order for shares on June 2.  If you would like to be included in that share, please contact me by May 30.  Assuming no backorders, it will take a week for me to receive the product and several days to repackage and send out shares.  You should receive your share in approximately two weeks.  I will process them as quickly as possible.
2015-2016 Ribbon Shares
1″ Dotted Lace Trim ~ $8
1 yd each, five 2015-2017 In Colors (Cucumber Crush, Delightful Dijon, Mint Macaron, Tip Top Taupe, Watermelon Wonder)
5/8″ Striped Cotton Ribbon ~ $9
2 yd each, five 2014-2016 In Colors (Blackberry Bliss, Hello Honey, Lost Lagoon, Mossy Meadow, Tangelo Twist)
3/8″ Stitched Satin Ribbon ~ $11
2 yd each, 5 Colors (Basic Black, Crumb Cake, Melon Mambo, Pacific Point, Whisper White)
1/4″ Cotton Ribbon ~ $18
2 yd each, 12 Colors (Blushing Bride, Daffodil Delight, Early Espresso, Island Indigo, Marina Mist, Melon Mambo, Pear Pizzazz, Pool Party, Pumpkin Pie, Real Red, Rich Razzleberry, Whisper White)
1/2″ Seam Binding ~ $12
2 yd each, 7 Colors (Calypso Coral, Early Espresso, Night of Navy, Pink Pirouette, Whisper White, Wild Wasabi, Wisteria Wonder)
1 1/4″ Striped Grosgrain ~ $7
2 yd each, 3 Colors (Bermuda Bay, Cherry Cobbler, Crumb Cake)
Sequin Trim ~ $7
Approx 2 1/2 yd each, 4 Colors (Bermuda Bay, Blushing Bride, Gold, Silver)
Want them all?  Shipping is FREE if you order all seven shares.
Last, but not least, a couple of cards from this week's Card Buffet.  These are CASEd from Mindy Gray, and they use the set "Guy Greetings".  There is still space in tomorrow night's class at 6:30 pm.  Please contact me if you would like to join us.  Class cost is $12 to make 6 cards.