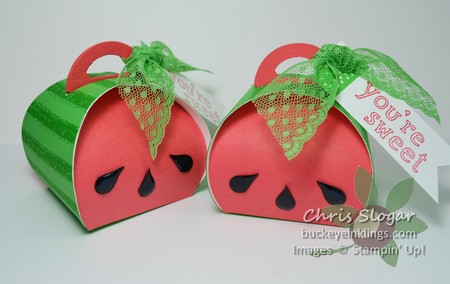 The Curvy Keepsake Box Thinlit is a "go-to" for favors, and our new In Colors inspired these summery boxes.  I used "Work of Art" to make the stripes, and the tag is stamped with a greeting from the retired set "Sweet Stuff".  The seeds are punch pack hearts, cut in half and coated with Crystal Effects.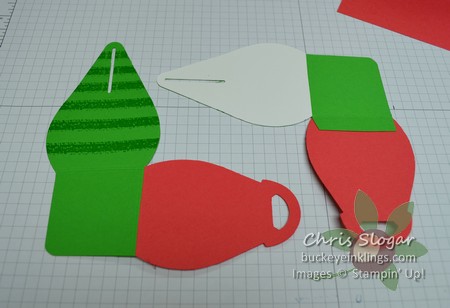 When you make the curvy boxes from different papers, you do have to piece the colors together.  Here is how the outside and inside of my pieces looked before assembly.  I covered the inside of the Cucumber Crush piece with Whisper White, and I created tabs on the Cucumber Crush pieces to attach to the Watermelon Wonder pieces.
I have received and am currently filling my first group of Ribbon Share orders.  I have updated my Ribbon Share listing here with pictures of the shares.  Please note that I added a longer length share of the 1″ Ribbon Lace.  In addition to the 1 yd length (1/5 spool), you can opt for 2 1/2 yd (1/2 spool) of each color.
I will be ordering my next group of Ribbon Shares this weekend, please contact me if you would like to be included.