Welcome to the Grand Vacation Achievers hop for November. This month our focus is on 3D projects.
You may just be starting the blog hop here at my blog (Chris Slogar) or may have come from the person previous to me in the list. If you get off track at any time, the full lineup below will help you move along from blog to blog so you see all the projects.
My project is a simple home decor piece that can be made in any colors or theme.  I wanted a holiday decoration, so I started with Merry Moments Designer Series Paper.  I love the variety of reds and greens in this paper!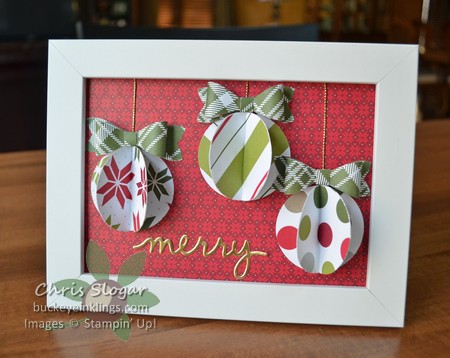 I took a 5″ x 7″ piece of designer paper and created a very simple arrangement of ornaments over it.  Each ornament is made of three 2″ circles.  Each circle is scored in half, and the three circles are attached to each other so that only one pattern shows for each ornament.
I used the Bow Builder punch and Gold Cording to create the look of pretty hangers.  Once all of the elements were in place, I took a frame apart and reassembled it with the designer paper on top of the glass.  So simple, but fun and festive!  It would make a great Hostess Gift.
You can frame anything this way, in any size.  Many of the cards we make would be lovely home decor items.
I have a two-dimensional example below.  My upline Mindy Gray gave me this years ago, and I pull it out for each holiday season.  It never fails to get compliments.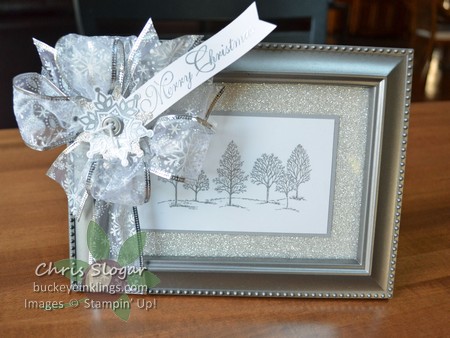 Mindy embossed the trees in silver and double-matted the scene on Smoky Slate and Silver Glimmer Paper.  In this case, it is behind the glass in the frame, and she added a beautiful bow.
I hope this gets you thinking about what images and papers you would like to frame.  You can make something simple, or a more elaborate collage.  I change the contents of my frames as the seasons change.
I also want to share something I learned while creating this project – the Precision Base Plate solves the problem of all of those thinlit poke-holes that can become pressed onto foil.  Here's what I mean…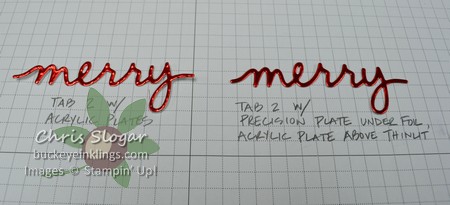 On the left, I cut the foil between two acrylic plates.  On the right, I used the Precision Plate.  See how the one on the left looks like it has measles?  The one on the right is so smooth and gorgeous.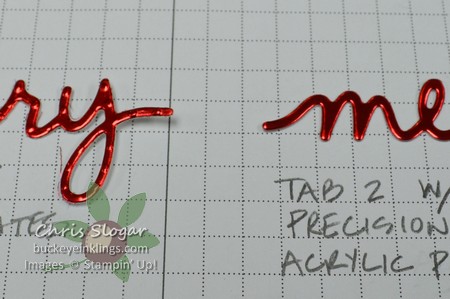 Maybe you are already aware of this, but it was eye-opening to me!  I don't know why I waited so long to get this piece of equipment.  I guess I thought I was getting along just fine with my various methods involving dryer sheets and wax paper.
Thanks for taking part in our blog hop, there are so many amazing ideas here!  Remember that currently you are at my blog – Chris Slogar – so check the blog hop line up list to see who is next in the list.  Enjoy!