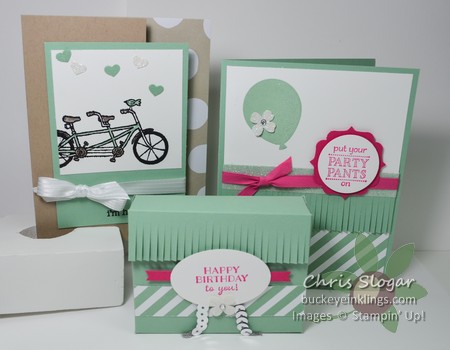 One of the biggest perks of joining Stampin' Up! is joining a community of people who share the same interest.  I am running a little late with my post today because I wanted to include pictures of the projects we made in our Isle of Ink Team Meeting last night in Columbus.  Isle of Ink is Terri Meehan's group, and Terri is my upline's upline, two generations above me in my Stampin' Up! family.
Terri provided these projects for us to do at her meeting last night.  They were designed by Ronda Wade, and while I love the little fringed box and card set, I want to focus on the other card today.  Terri tweaked the design to use the designer paper very efficiently – you'll love this!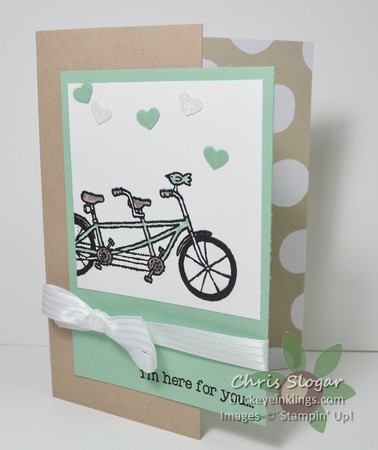 The Crumb Cake front only covers part of the inside, so we get to see that gorgeous It's My Party designer paper.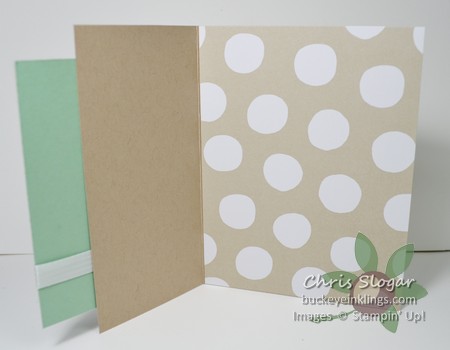 The designer paper covers the entire inside panel, so you are probably thinking it is cut at 4 1/4″ x 5 1/2″, right?  Yes, it would appear so, but ugh…who wants to cut 4 1/4″ widths from 12″ paper?  Terri's solution…make the card 1/4″ smaller, and you can cut more from each 12″ sheet.  Love that idea!  The size still fills our envelopes nicely, and who is going to notice that 1/4″ difference?
Dimensions for this card…
Crumb Cake 5 1/4″ x 6 1/2″, scored at 2 1/2″
Designer Paper 5 1/4″ x 4″
Mint Macaron 3″ x 4 1/4″
Whisper White 2 3/4″ square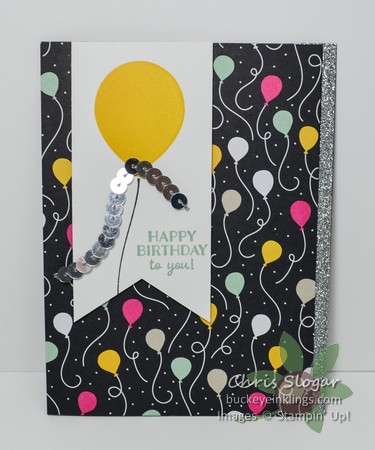 Here's another way to use 4″ widths without the matted look – simply cut 1/4″ off of the front panel, and use Washi Tape along the edge of the inside panel.  This is a super-simple card that shows off another pattern of the It's My Party collection.
The designer paper measures 4″ x 5 1/2″, and it completely covers the front panel because I have trimmed off 1/4″ on the right side.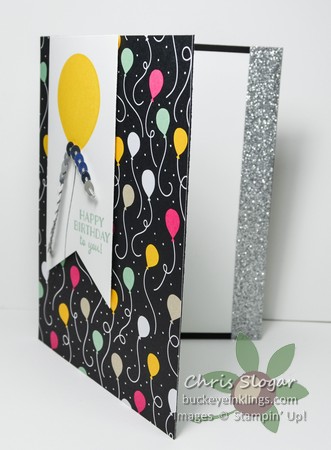 I have to admit that I have always been a little squeamish about cutting 4 1/4″ widths from designer paper – if you can relate, try these fixes!
And back to the subject of Stampin' Up! teams…joining Stampin' Up! is a great way to meet people who share your hobby.  You can join with no commitment to sell.  In fact, there is no commitment beyond the Starter Kit, but you do get a discount on your purchases after you join.  Sale-a-bration is a great time to join – through the end of March, our Starter Kit is $99 (including shipping) for $155 worth of the products of your choice.
Please don't hesitate to contact me if you have any questions.  I would love to have you on my team – I have regular meetings and awards for my team, and you would also be a part of the larger teams of my uplines.  It is a fun community, and it is also fun to get a discount on our favorite products!  🙂  Click here to join.
>