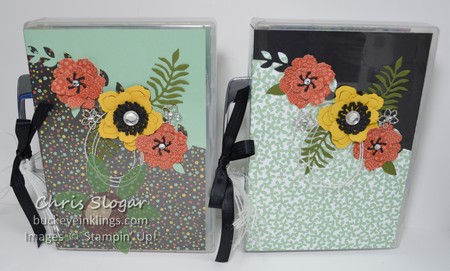 My upline Mindy Gray shared this beautiful project with me and gave me permission to offer it online.  The project uses a full-size wide stamp case as a container for a coordinated gift set.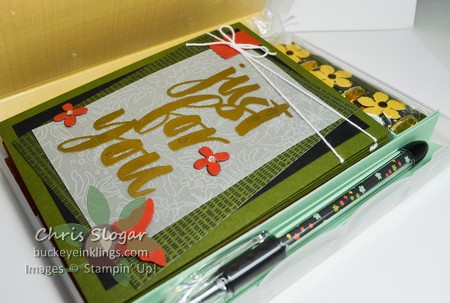 The handled case is decorated with the Botanical Gardens suite of products, and it holds six 4 1/4″ x 5 1/2″ cards with envelopes (2 each of 3 designs), wrapped chocolates, and a coordinating pen.
I am offering a Class Planner, which includes 11 pages of illustrated directions, with product list, cutting instructions and detailed assembly instructions.  This project uses the Botanical Gardens suite of projects, as well as "Botanicals for You", and "Suite Sayings" – though alternate greetings can be substituted for these sets.  Click here to purchase Class Planner.
I am also offering a "Class To Go".  The Class To Go Kit includes everything you need to make one Gift Set.  Click here for complete details.
 The local class will be held on Tuesday, March 22 at noon or 6 pm.  Class cost is $30, please contact me to register.