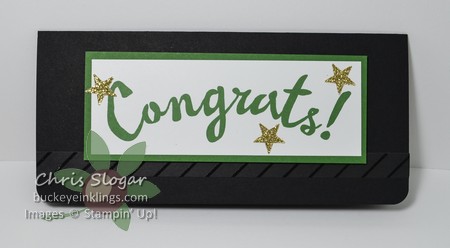 I am running late with my posts after a busy week of Card Buffet, but I do want to share this money folder that was popular in class this week.  This is a great way to present cash or a check to a grad.  I shared this last year in a slightly different design, and I will link the video that shows how to cut the base at the end of this post.
We made this in many different colors this week – for all of the local high schools and some universities.  I hope you can see the 1/2″ x 7″ strip of Color Me Irresistible paper just under the greeting – it is already embossed, and it dresses up the front of the folder nicely.
The Garden Green cardstock measures 2″ x 5 1/4″, and the Whisper White that carries the greeting from "Bravo" measures 1 3/4″ x 5″.  Those pieces are matted together and mounted to the front of the folder with dimensionals.
I am using some of my favorite things here, and sadly, they are on the retiring list.  "Bravo" is a fabulous set of greetings that covers just about any congratulation card you can think of, and the Color Me Irresistible paper will be gone, too (and it is half off – $6.50 for the whole collection!)  The Itty Bitty Punch Pack with the star will also retire with this catalog.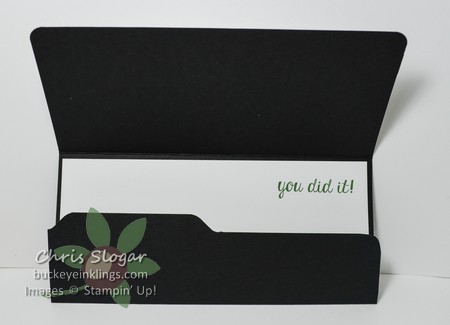 The inside flap is punched with the envelope punch board, and I have attached a piece of Whisper White cardstock (3″ x 6 3/4″) to the inside.
This card fits in a standard envelope that I got at my local printer's shop.  It is called a Monarch envelope, and it measures 3 7/8″ x 7 1/2″.
The Basic Black base measures 7″ x 8 1/2″, scored at 3 1/4″ x 6 1/2″.  The file tab on the inside is created by punching with the envelope punch board at 3 1/2″.  The video below shows exactly how this is created.  Please keep in mind that the video is from last year, so the design on the front is different.