Today is the first day of the awesome new 2016-2017 Annual Catalog!  Woohoo!  Click the image above or use the link in the left column of this site to flip through it online.  If you don't already have a Demonstrator, and you would like to receive a copy, please contact me at stampyourworld@gmail.com.  I would be happy to mail you one.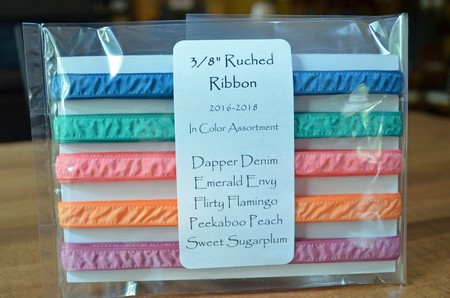 There are so many great new ribbons in our catalogs, and in so many colors!  The best way to get them all is to "share" full spools.  I will purchase every color of certain products and repackage them into smaller portions so that you can have a great collection of colors without buying a full package of each item.
I have several shares to offer – the contents of each share are described below.  All of the shares will be packaged neatly, wrapped on cards (example shown above).
3/8" Ruched Ribbon ~ $10
2 yards each, five 2016-2018 In Colors (Dapper Denim, Emerald Envy, Flirty Flamingo, Peekaboo Peach, Sweet Sugarplum)
5/8" Mini Striped Ribbon ~ $10
2 yards each, five 2015-2017 In Colors (Cucumber Crush, Delightful Dijon, Mint Macaron, Tip Top Taupe, Watermelon Wonder)
1/8" Stitched Ribbon ~ $8
3 1/3 yards each, three Colors (Bermuda Bay, Melon Mambo, Smoky Slate)
¼" Natural Trim ~ $5
2 ½ yards each, two Colors (Gold, Silver)
3/8" Stitched Satin ~ $11
2 ½ yards each, four colors (Pool Party, Blushing Bride, Real Red, Very Vanilla)
Ribbon Sampler ~ $8
2 yards 3/8" Mint Macaron Sheer Linen, 1 yard 5/8" Burlap, 1 yard White Mini Pompom Trim, 1 yard Very Vanilla ½" Lace Trim
Please email me at buckeyeinklingsorders@gmail.com if you would like to order a share.  Each time I have a complete group, I will proceed with the order.  At that point, I will send a Paypal invoice,  and once the invoice is paid, I will order the share.    Please understand that it will take at least a week to fill the share and receive the product, and two weeks or more for you to actually receive the share.  I will proceed as quickly as possible.
Shipping is $3 for a single share, $6.45 for any combination of multiple shares.  (US Addresses only, please.)  If you would like all of the shares, I will also include a spool of our Thick Baker's Twine, please specify color (Bermuda Bay, Calypso Coral, Cucumber Crush, Melon Mambo, Very Vanilla, Whisper White) or I will choose for you.
Have a great day!