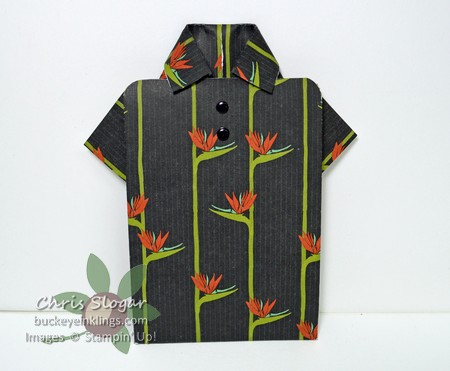 I CASEd this fun fold shirt from Carolyn Bennie to make with my clubs in May.  It makes a great Father's Day card, or any occasion "guy card".  I love it because it is summery and different.  Our retired Botanical designer series paper was perfect to create a Hawaiian look, but I think it will be awesome in brights, stripes, pastels, and all kinds of patterns.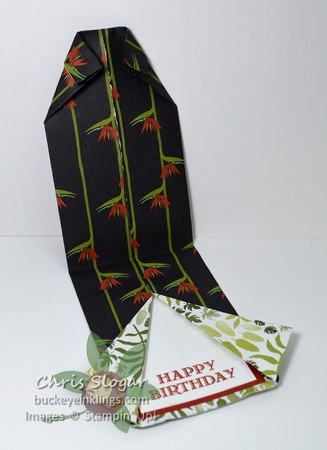 The torso of the shirt untucks from under the collar to fold open.
It proved tricky to draw up and explain in directions, although it is not difficult to create.  I promised my club members a video in lieu of written directions.  I was just waiting for a rainy day to get it done.  And I was so happy for a rainy day – we have been working in the yard nonstop otherwise, in preparation for Julia's graduation party.  My arms are scratched up and mosquito-bitten, and my legs are worse (but they are not in the video!)  Julia says it looks like I have been fighting with a cat.  I am digressing, here's the video:
I have a limited number of my Botanical Blooms Stamp Case Gift Sets available, and I am offering them with FREE shipping until my supply is gone.  Please click here for details.