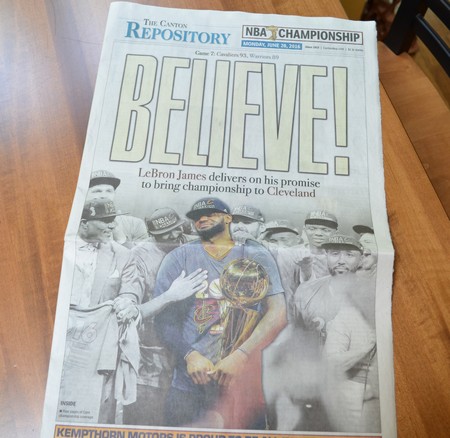 What a glorious Monday for Northeast Ohio!  Our Cleveland Cavaliers are bringing home the NBA Finals Trophy…against all odds!  Way to go Cavs!!  It was a nail-biter, but WOW!  They did it!
As for me and the reference to getting back to work…if you are a regular, you may have noticed the reduction in posts this month.  As anxious as I am to dig into all of my new catalog goodies, I have been preoccupied with my younger daughter's graduation and party.  Thought I'd share a little about that today – there was some papercrafting involved.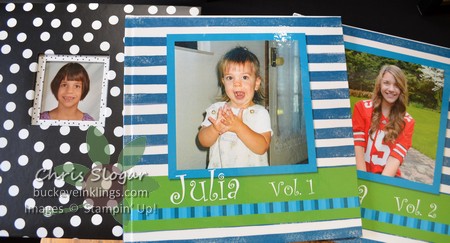 It's no secret that I am not a scrapbooker.  I rarely even print pictures any more.  There, I said it!  Please don't judge me – I really do love papercrafts, but my scrapbooking has always been lacking.  I created two volumes of digital pictures to cover the big events in Julia's life.  Most printers can only print around 100 pages, so I had to break her life into two books covering about 9 years each.  In the above picture, these are the striped books.
We also had a fabulous pile of grade school class pictures, individual school pictures, sports pictures and high school dance pictures.  At the last minute, we decided to put those into an album for display.  The hardest part of this was getting the pictures into the correct order.  Then we simply attached them to bright cardstock and designer paper to create very easy spreads.  We put those into the book on the left – the black and white spotted book.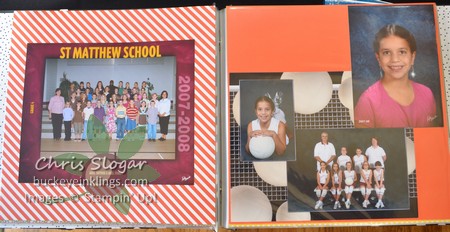 Here is a safe example to show you.  These pictures are almost 10 years old, so there are no current friends or prom dates to embarrass.  I was so thankful to have a stash of our Brights 12″x12″ cardstock and designer papers on hand.  Each spread in the book uses a pattern and a solid, and that results in a very coordinated look.  This was really simple, and it is great to have those pictures in a book instead of a box buried in the basement.
I know I am not impressing the scrapbookers out there, and I do admire all of you who can keep up with printing, organizing, and embellishing all of life's moments!  If you are like me, though, you may appreciate these more simple solutions to memory keeping.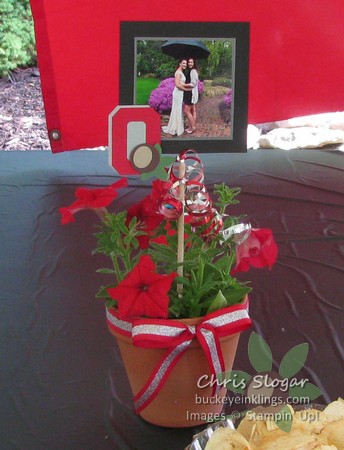 We also made some fun picks for the centerpieces at our party.  We collected 4″ square pictures and matted them on Basic Gray and Basic Black.  They are two-sided, with a different picture on the back.  The emerald shaped "Block O" is cut with a non-SU! die, but the buckeye is made with Stampin' Up! punches (some retired).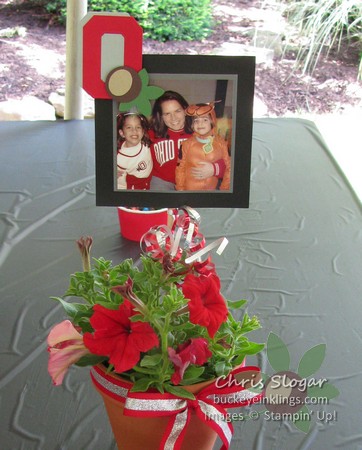 Here's another example.  This was such an easy and inexpensive way to add color and a personal touch to our party that we made a bunch of these and scattered them all around.  Now that the party is over, I will be adding the flowers to my landscaping this week 🙂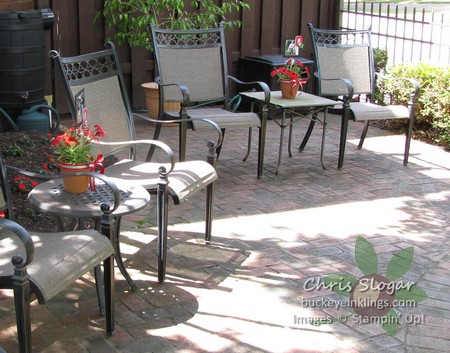 Thanks for stopping by, and have a great Monday!