I chose Fruit Stand designer series paper to scatter on my card.  I followed the proportions of the pieces in the sketch closely, but they are enlarged because I wanted to show as much of the beautiful summery papers as possible.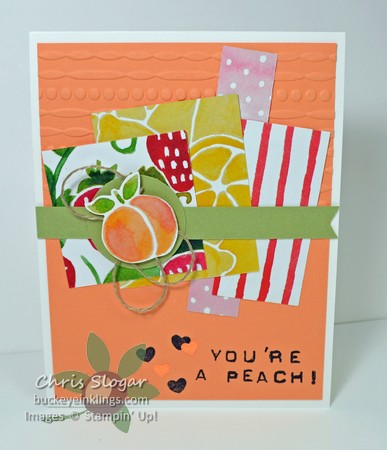 The peach is cut from one of the designer paper sheets, and I created my own greeting with "Labeler Alphabet".  I make my greetings in steps, starting by laying out every other letter for the greeting on my grid paper.  I lay them out with the flat side up, leaving space for the alternating letters.  Once they are laid out, I pick up the stamps all at once with an acrylic block – in this case, the block on the left in the picture below.
I stamp the image from this first block onto the grid paper and then lay the remaining letters into place.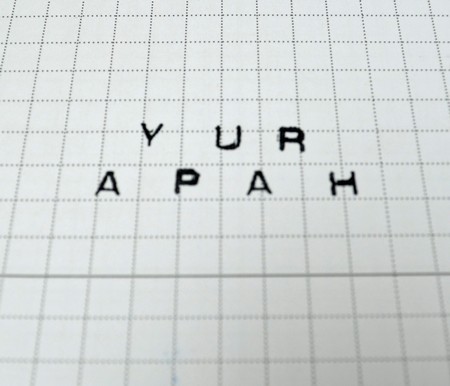 I pick up the letters in the second group all at once on the second acrylic block.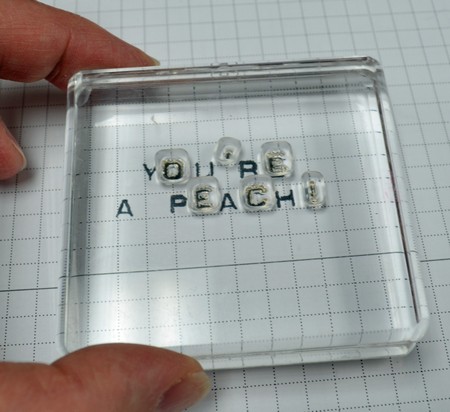 With the two blocks set up this way, you can easily stamp the same greeting repeatedly if you wish.
 Thank you for checking out my card for this week's challenge.  Please visit Create with Connie and Mary to see all of the cards created by my talented teammates as well as the entries.  Hope you'll be inspired to play along!