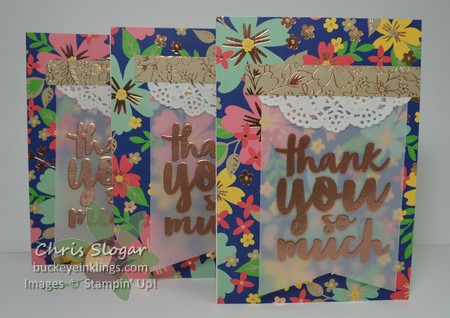 I know it can be tough to cut into those specialty sheets, but there are benefits to using them.  First of all, they are gorgeous!  That means that you don't need much else to finish your card.  Beyond that, if you use them, you can feel justified in buying more…or buying the next great paper that comes along!
My thank you notes are made on our precut and scored note cards.  I cut a 3 1/2″ x 5″ piece of an embossed sheet of Affectionately Yours paper to completely cover each card front.  I used copper embossing powder for the greeting from "Thankful Thoughts", and I embossed it on vellum.  I tacked it down with a pretty coordinating strip of designer paper and part of a doily.  Easy!!
Have a great weekend!