Welcome to the Grand Vacation Achievers hop for December. This month we are previewing items from the 2017 Occasions Catalog.  These items will be available starting January 4.
You may just be starting the blog hop here at my blog (Chris Slogar) or may have come from the person previous to me in the list. If you get off track at any time, the full lineup below will help you move along from blog to blog so you see all of the projects.
I chose to feature "Happy Celebrations" and the coordinating Celebrations Duo Textured Impressions Embossing Folders.
I embossed the 2″ x 4 1/4″ Thick Whisper White panel with the word "celebrate", and then I stamped over it in Crushed Curry with one of the solid dots from the "Happy Celebrations" set.  I also stamped over the embossed word in Tangerine Tango with the solid balloon from "Balloon Adventures".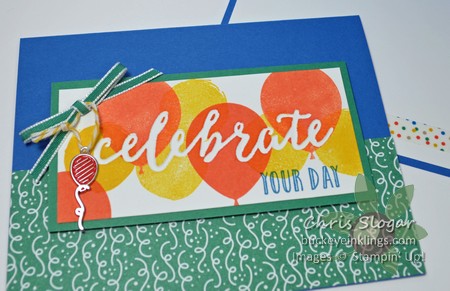 I used the colors and accessories from the Party Animal Suite, which includes the designer paper, ribbon, balloon embellishment, and washi tape (inside panel of card).
This is a simple card, but I posted an even simpler version of this card previously.  With different colors and designer paper from the Succulent Garden collection, this one provides a softer look.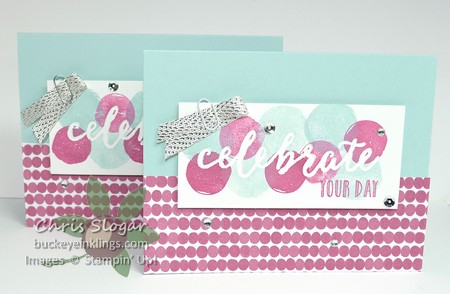 I used both of the solid dots from "Happy Celebrations" on this card, in Soft Sky and Sweet Sugarplum.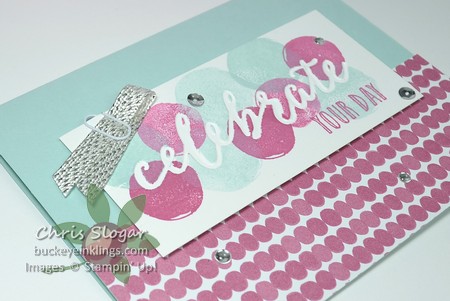 The new paperclips and Sale-a-bration ribbon make an easy embellishment here – no bows or knots required!
Thank you for visiting and for taking part in our blog hop.  Remember that currently you are at my blog – Chris Slogar – so check the blog hop line up list to see who is next, and enjoy!