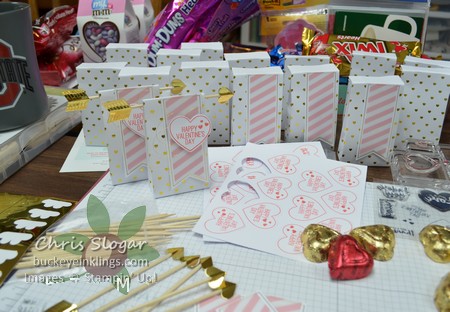 I own so much stuff to create my own cards and favors…but I just love what Paper Pumpkin delivers each month!  For me, it's an extra project, completely planned and ready to assemble.
The January kit offered an easy 24 treat bags for Valentine's Day.  You can see a couple of them finished in my picture.  The kit provided everything needed, including stamps and ink, which I plan to use over and over again.
The greatest thing about the Paper Pumpkin kits is this…they are all-inclusive.  You don't have to track down coordinating papers (and buy a whole pack), coordinating embellishments and ribbons (and buy a whole pack/spool), stamps, and ink.  It's all there, delivered to your home for only $19.95 + tax, shipping is included.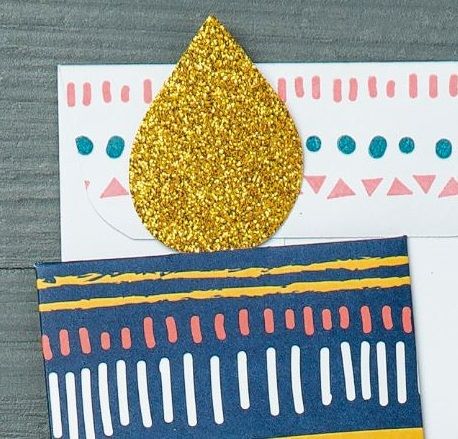 Stampin' Up! put out this sneak peek of the kit that will be shipped this week – I would say it looks like birthday cards, but I don't have any info beyond this picture.  Today is the last day to subscribe to be included in this month's subscription.
There are two ways to subscribe.  You can pay monthly by signing up here…
Click here to sign up for Paper Pumpkin
However, if you like a deal, the three-month subscription to Paper Pumpkin is on sale for $55.  When you purchase it in the online store, the purchase price counts toward Stampin' Rewards, and you will earn a free Sale-a-bration product.  You will also be eligible for my Loyalty Rewards and free card.
When you purchase the subscription in the online store, you will immediately receive an email with a promo code.  At this point you must still activate the subscription.  Use the same link shown above to set up your subscription, but instead of entering a credit card payment, enter the promo code.  Note that you must first purchase the subscription and then use the promo code at paperpumpkin.com to activate your subscription.
During Sale-a-bration, if you purchase the year-long Paper Pumpkin subscription at $215 with an additional $35 in merchandise in the online store, you get your choice of $50 additional merchandise (Stampin' Rewards) and five free Sale-a-bration items.
The carousel below includes the prepaid subscription items.  Click on any of them to purchase.  Please don't hesitate to contact me if you have any questions.
Also today, I sent out a batch of free Cool Treats Twisted Pop-Up cards to my online customers.  I send my current "Featured Card" as a thank-you for online orders over $35, and I would love to send you one!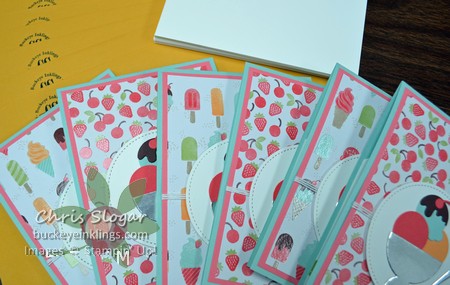 Have a great weekend!