Welcome to the Grand Vacation Achievers hop for April.  This month we are sharing highlights from our worldwide April 2017 OnStage events.  While I was not able to attend, I did send some swaps and treats to friends who attended.  Today I am sharing one of my handmade items.
You may just be starting the blog hop here at my blog (Chris Slogar) or may have come from the person previous to me in the list. If you get off track at any time, the full lineup below will help you move along from blog to blog so you see all of the projects.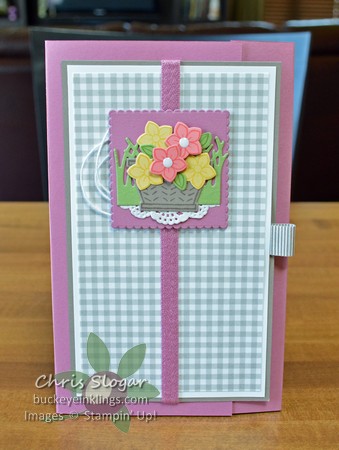 I covered and decorated a 5″ x 8″ mini legal pad.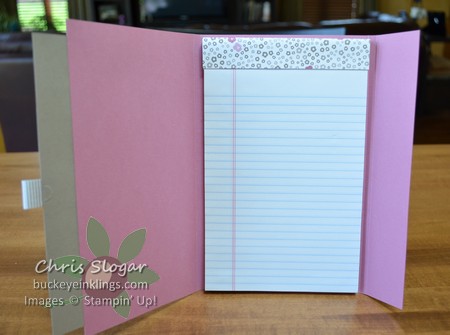 The Sweet Sugarplum cardstock wrap measures 8 1/4″ x 11″, scored at 4″, 4 1/4″, 9 3/8″ and 9 5/8″.  A small piece of transparent velcro holds this folder closed – you can barely see it just inside the loop of Tip Top Taupe Mini Stripe ribbon at the far left in this picture.  It attaches to the opposite side of the Sweet Sugarplum flap that is open on the right side.
I used the Basket Bunch bundle to make the cute basket of flowers.  A length of 3/8″ Sweet Sugarplum ribbon from the Succulent Garden Ribbon Combo pack runs from top to bottom of the matted pieces.  The dimensions of the matted pieces are as follows:
Tip Top Taupe  4 1/2″ x 7 1/2″
Whisper White 4 1/4″ x 7 1/4″
Succulent Garden Gingham designer paper 4″ x 7″
 Thank you for taking part in our blog hop.  Remember that currently you are at my blog – Chris Slogar – so check the blog hop line up list to see who is next, and enjoy!