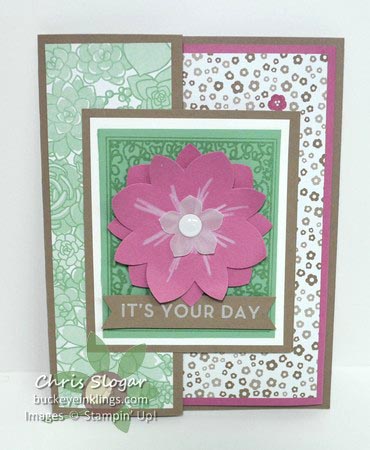 This was one of our club projects this month, and it includes a double fold.  It is also a double CASE.  I took an idea from my upline Mindy Gray for the fold, and an idea from Dena Rekow at the Creativity Cave to incorporate of that stamp that nobody uses.  Do you know the stamp I mean?  You can probably pick it out of the "Big on Birthdays" set, shown below.
I do love this set, but I don't have anyone on my list that would appreciate "At Least You're Still Pretty".  But it is a pretty stamp, so we covered it up a bit with a big flower.  I drew in the veins on the flower with the Whisper White Watercolor Pencil.
The left fold of the card opens to reveal another pretty stamp from this set…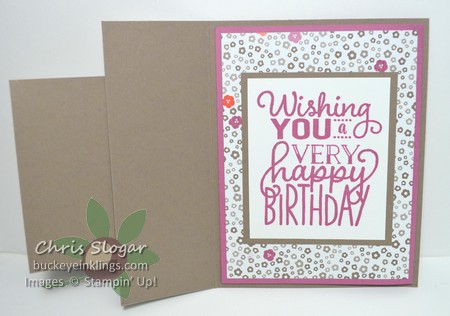 The Sweet Sugarplum layer is actually another card base that opens to the right…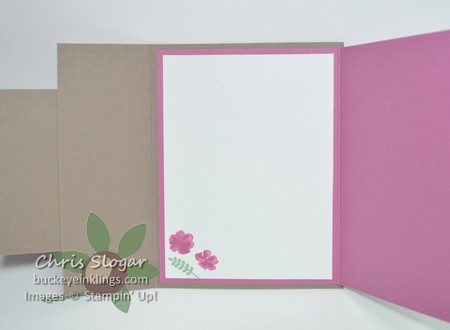 You can see how the layers stack up in this end view…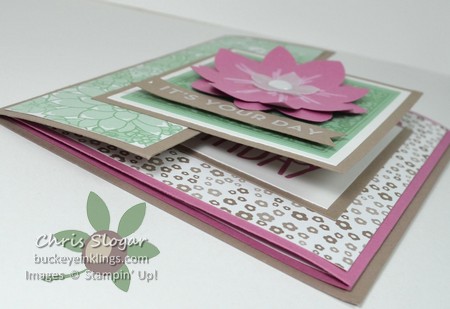 This card isn't hard to create, but there are a lot of pieces.  I have listed them below.
Tip Top Taupe Base   5 ½" x 6 ¼", scored @ 2"
Sweet Sugarplum Inner Base   5 ¼" x 8", scored @ 4"
Designer Paper and Whisper White for Inner Base   5" x 3 ¾"
Designer Paper on front flap   5 ¼" x 1 ¾"
Tip Top Taupe center panels    (2)  3" x 3 ½"
Whisper White on center panels   (2)  2 ¾" x 3 ¼"
Mint Macaron on front panel   2 ½" x 3"
I used Succulent Garden designer paper on this project, and it is on sale for $6.60 in the Retiring List – a great deal for twelve double-sided 12″ x 12″ sheets!  The Flower Medallion punch is also on sale for $12.60.
Products used on this card are shown in the carousel below, but the discounted prices are not reflected there.  Click here to check out the online store for all retiring products and prices. Retiring products are only available while supplies last.
Order $35 or more, and I will send you my Featured Card (the Jar of Love pocket card, through the end of May).  Orders over $50 also qualify for a Buckeye Point in my Loyalty Rewards Program.
Have a great Monday!