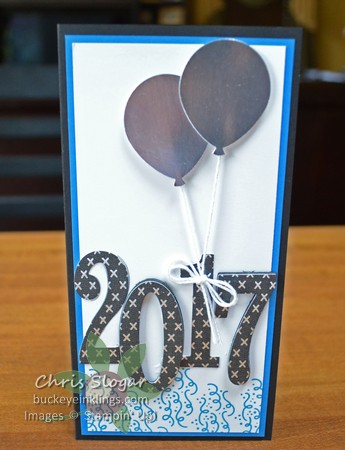 Most of the graduation cards I make are easily adaptable to any school colors, and this one is no different.  The Large Numbers Framelits highlight the graduation year, and I love using them with craft foam – the "0" and the "7" are popped up on black foam for some fun dimension.  The card opens to reveal a pocket that can hold a note and/or cash.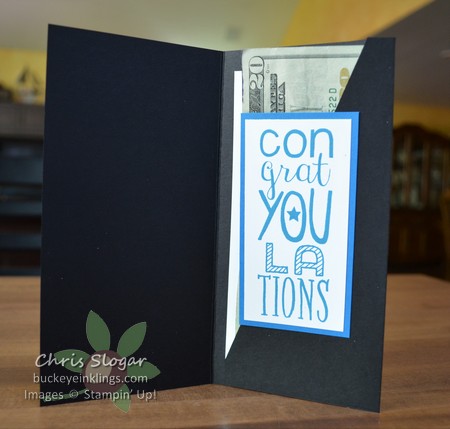 I used a retired stamp from "Bravo" on the inside, and a stamp from "Suite Sentiments" on the inner note (below).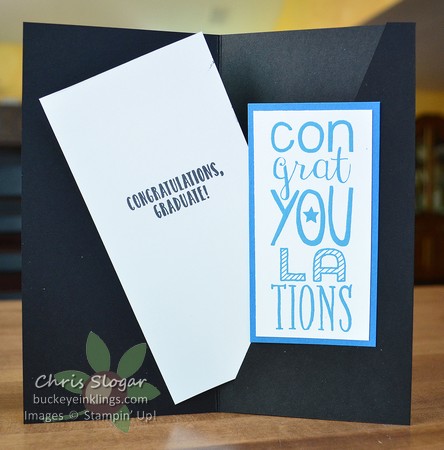 The Basic Black base measures 7″ x 10 1/4″, scored at 3 1/2″ and 7″.  This makes the dimensions of the front and back 3 1/2″ x 7″, and it fits in a Monarch envelope (3 7/8″ x 7 1/2″).  The Pacific Point cardstock on the front measures 3 1/4″ x 6 3/4″ and the Whisper White measures 3″ x 6 1/2″.
The inside "pocket" is 3 1/4″ wide.  I cut a diagonal edge on the inside, starting 1/2″ from the fold at the top right and 1/2″ up from the corner that folds in.  I added adhesive under the bottom edge to create a pocket, but you could leave the piece loose and simply fold it over the Whisper White greeting piece.  If you leave it loose, you could adhere the larger Whisper White piece to the inside.
The Pacific Point on the inside measures 2 1/4″ x 4 1/4″ and the Whisper White measures 2″ x 4″.
 Products used to make today's card are shown in the carousel below.  Please visit the online store for a full selection of our products.  There are many reductions on retiring items, and the Clearance Rack was updated recently.  Quantities are limited.
Order $35 or more, and I will send you my Featured Card (the Jar of Love pocket card, through the end of May).  Orders over $50 also qualify for a Buckeye Point in my Loyalty Rewards Program.
Have a great day!