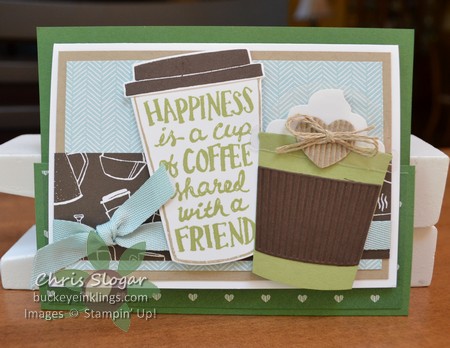 You are going to love the stamps and framelits of the Coffee Cafe Bundle!  Add the Coffee Break designer paper, coordinating ribbon and corrugated elements, and you have everything you need to make some great coffee-themed projects.
I have to point something out (because it didn't photograph very well) – there is a domed window sheet piece over the whipped cream on the smaller cup.  What a perfect lid – these pieces are so fun!
This is a joy fold card that uses a Whisper White note card as one of the base pieces.  The other base piece is Garden Green, 5 1/2″ x 6 1/2″, scored at 2 1/4″.  I added a pocket for a gift card.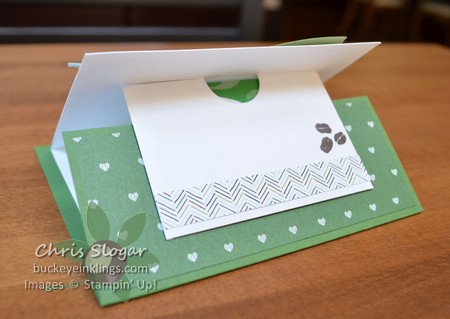 You can see the pocket as the card opens.  The pocket is made from a note card envelope – I sealed the envelope, and cut off 2 1/4″ from one side to use for the pocket.  You can get two pockets from each envelope.  I made a notch in the cut edge with my 1″ circle punch.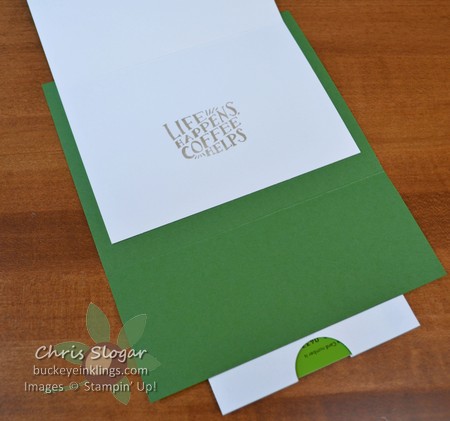 Completely open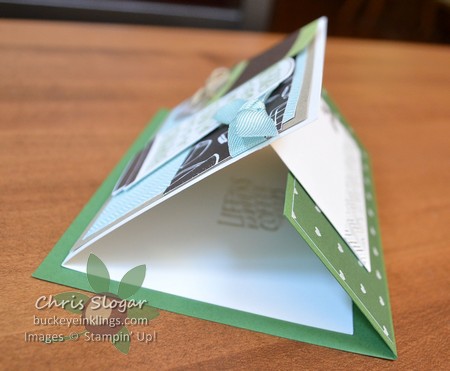 An end view of the fold
   If you would like to shop the new 2017-2018 Catalog, click here, or use the carousel below to go directly to a specific product used in today's project.  Order $35 or more in June, and I will send you this gift.  You'll also receive a Buckeye Point in my Loyalty Rewards program for every $50 spent before shipping and tax.
Have a great day!