Welcome to the Grand Vacation Achievers hop for June.  This month we are featuring our favorite products from the 2017-2018 Annual Catalog.
You may just be starting the blog hop here at my blog (Chris Slogar) or may have come from the person previous to me in the list. If you get off track at any time, the full lineup below will help you move along from blog to blog so you see all of the projects.
I chose to highlight the Lemon Zest bundle, which has become an unexpected favorite for me.  We all have our "must-have" lists initially, and then there are sets that we overlook.  I had passed over this bundle at first, and what a mistake that was!  These lemons, limes, and oranges (or whatever you make them) are so fun and summery.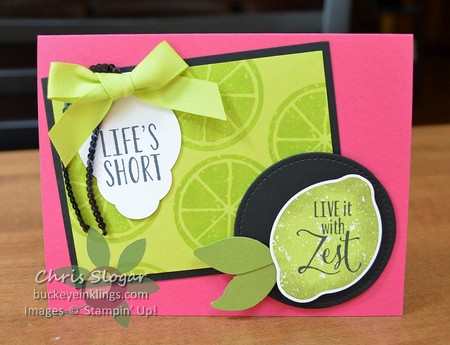 My background slices are Lemon Lime Twist on Lemon Lime Twist cardstock.  The lime stamped in the foreground is Lemon Lime Twist with Old Olive sponged onto the edges for depth.  I used Melon Mambo for my card base.
How do you like the new sequin trim?  I think the smaller size is much easier to work with, and I am thrilled that it comes in black!
Thank you for taking part in our blog hop.  Remember that currently you are at my blog – Chris Slogar – so check the blog hop line up list to see who is next, and enjoy!