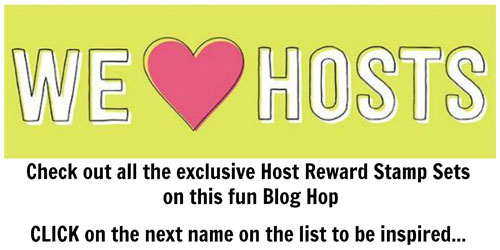 The Host Sets are especially fabulous this year – so much so, that I had a hard time picking one to showcase!  I decided to go with the absolute best value set, and the one that may seem intimidating.  It's the set with a whopping 60 stamps for only $16 (Stampin' Reward Dollars), and it is called "In the City".
My card is a gate fold of sorts.  The horizontal Emerald Envy strip is a gate fold piece, just not a full-height gate.  The opening created looks more like a saloon door than a gate.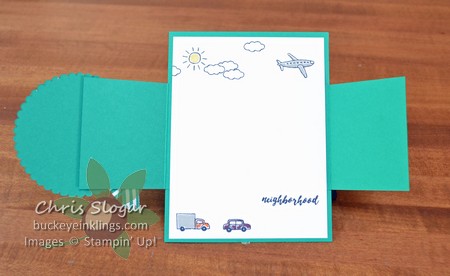 The Emerald Envy strip measures 2 3/4″ x 8 1/2″, scored at 2 1/8″ and 6 3/8″.  I put it in place on a 4 1/4″ x 5 1/2″ piece of Emerald Envy first.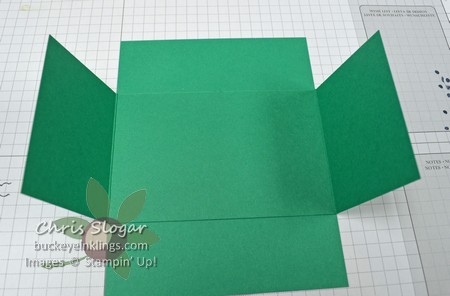 Then I stamped and added the other pieces.  This is where the fun begins.  First a look at the stamp set…
Oh the possibilities!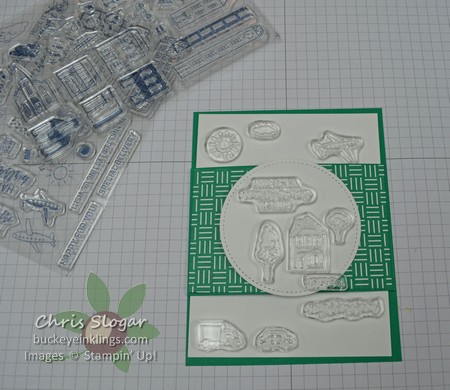 I had some fun playing with the pieces until I came up with a layout that I liked.  I simply used the stamps as placeholders, and moved them around until I had a little scene.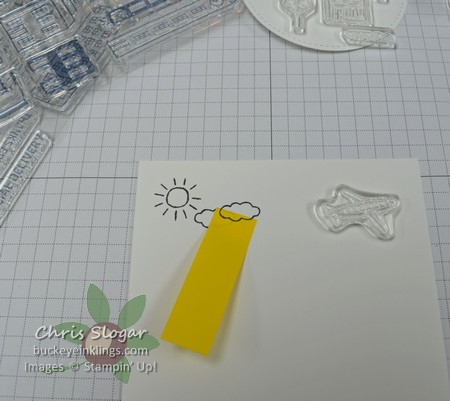 Then it was time to stamp, and I picked up stamps one at a time off the layout, leaving the others in place when possible.  It was helpful to have post-its available for masking.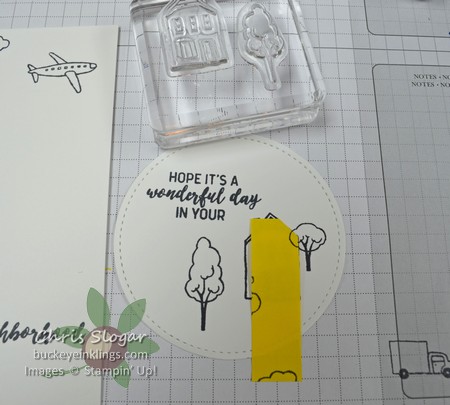 I only trimmed the post-its where I had to, like on this roofline.  For the most part, straight edges on the mask were adequate.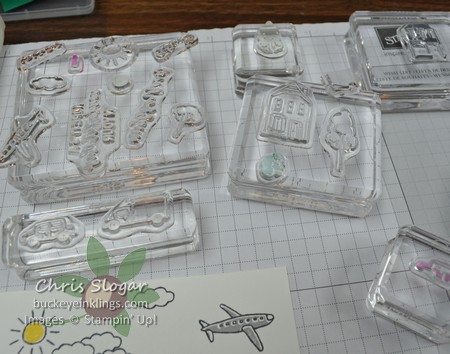 I used only 21 of the stamps for this card.  I kept some acrylic blocks handy to collect the dirty stamps as I worked.  Some of them are very small and easy to lose, so watch out for that!  If you are more disciplined than me, you could clean them and put them away as you stamp.
When you are using so many stamps, I recommend stamping a few cards at a time.  I wish I had done that!
These Host Sets are only available with Stampin' Reward Dollars earned on orders over $150, gathered through a party or placed in the online store.  Through the end of June, big orders ($350+) earn Stampin' Rewards according to the chart in the catalog plus an additional $35.
Why not group orders with a few friends to take advantage of this?  If you need the orders to ship to separate locations, contact me at stampyourworld@gmail.com, and I will set up a Hostess Code for you.  Using a Hostess Code, orders placed by individuals in the online store can be counted toward one total for the Hostess.
I hope you enjoyed my "Saloon Doors" card.  Thank you for participating in our blog hop.  Remember that currently you are at my blog – Chris Slogar – so check the lineup below to see who is next and enjoy!