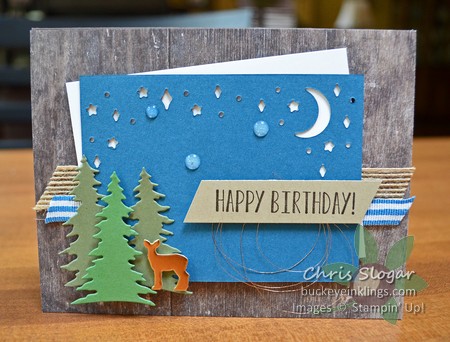 You don't have to use the Card Front Builder Thinlits for Christmas.  I used them with a greeting from "Lemon Zest" for today's birthday card, and I went out of my way to include bling on this masculine card.  I ended up using Copper Foil, Copper Metallic Thread, and Glitter Enamel Dots.  So fun!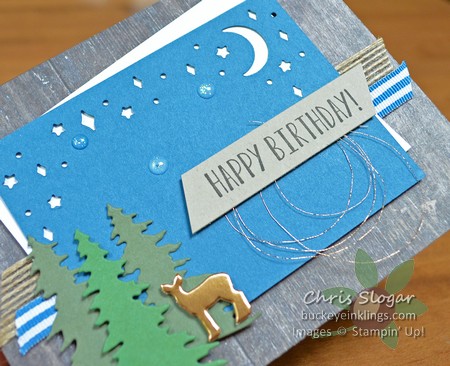 These thinlits will be available starting August 1 as part of the Carols of Christmas bundle that will be released early from this year's Holiday Catalog.  However, you can get them NOW, as part of your Starter Kit, if you take advantage of the current recruiting promotion.
Typically, the Starter Kit includes $125 in product – the product of your choice – for $99 (shipping is included).  Through July 31, Stampin' Up! is also including "Carols of Christmas" (the stamp set), two D size acrylic blocks, grid paper, paper snips, SNAIL adhesive, and a bone folder for FREE in every Starter Kit.  That's an additional $72 Value.  You can include the $30 Card Builder Thinlits (Item 144674) as part of the $125 in merchandise that you choose.  See the complete stamps set and thinlit collection in the flyer below.
There is no obligation to purchase beyond the Starter Kit.  However, if you join now, you will be able to participate in the Demo Preorder for the 2017 Holiday Catalog, starting August 1.  Even better, your purchases will be discounted at least 20%.  The percentage goes up with promotions and volume of sales.  Please don't hesitate to contact me at stampyourworld@gmail.com if you have any questions.  We can set up a call to talk about it.  Or, if you are ready to pick out your own Starter Kit, click here to join.  I'd love to have you on my team!
Have a great weekend!