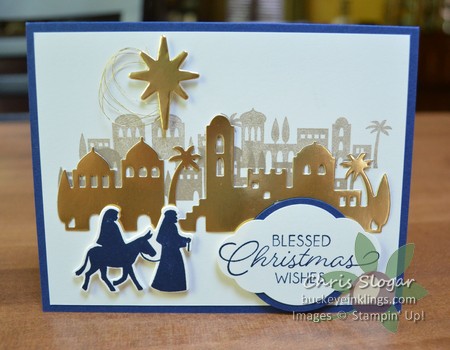 I was really excited to break out this set!  "Night in Bethlehem" and the coordinating Bethlehem Edgelits Dies create a suprisingly easy "WOW" card.  I stamped the rooflines in Crumb Cake, one at full strength and the second staggered from the first and stamped off.  (Stamping off means tapping some of the ink from the stamp onto scrap paper before stamping onto the project.  This creates a lighter image.)
Then I added a few gold elements, and they really steal the show – especially the detailed roofline cut with one of the edgelits.  It's so great when the materials create the "WOW" with so little effort!
Now is a great time to start your Christmas cards, and we have such a fabulous collection of products for fall and the holidays in our 2017 Holiday Catalog!  Please contact me at stampyourworld@gmail.com if you would like to receive a catalog in the mail, or click here to look through the online store.  You can also click on any product in the carousel to check it out in the store.
  Order $35 or more in September, and I will send you a Copper Leaf shaker card and a package of our Linen Thread.  Orders over $50 also qualify for a Buckeye Point in my Loyalty Rewards Program.
Have a great Monday!