My mitten projects seemed a little out of place in August and September, but it's mitten season now.  It's November in the midwest, so I think we can appreciate a few more projects using "Smitten Mittens".  This is probably my favorite bundle from the 2017 Holiday Catalog, and it's not just for Christmas.
We are heading into another weekend of college football, so let's start with this…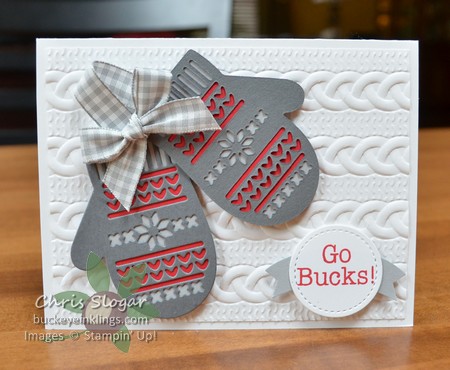 The mittens cut with the detailed thinlit are made even better here by piecing scraps of cardstock behind the openings.  Ok, it's a little fussy…but so worth it!!  It's pretty awesome in Scarlet and Gray, but you can make it in your team's colors.
On a side note here, I have gotten a few questions about Boris, who was absent from the Alaska Achievers selfie of me and the girls last week.  The simple answer – he's not big on matching clothing and posed pictures.  However, I did get a picture with him in his element.  You have to catch these guys in moments that they want to remember!!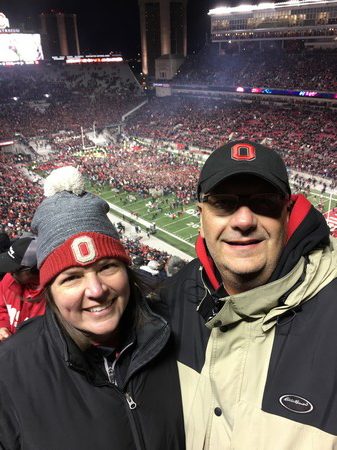 This was taken after last Saturday's Ohio State win over Penn State.  So yes, he is still here, and yes, he gets to go to Alaska, too!  Thank you again to my fabulous team and customers for making it possible for me to earn the trip!
Back to the mittens…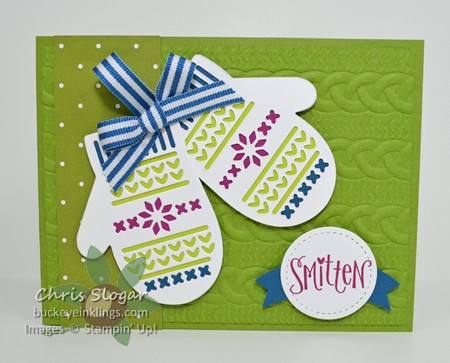 This is another remake of a card posted earlier this season, but I pieced the mitten openings here.  I used Dapper Denim, Berry Burst and Lemon Lime Twist.  The background photographed a little bright here – it is actually Old Olive.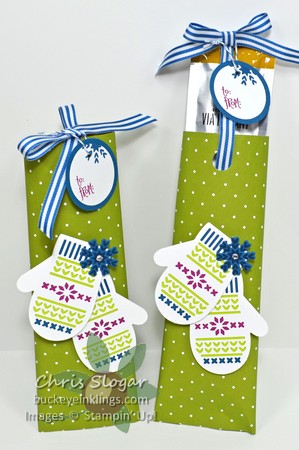 I used this same color scheme with pieced mittens to decorate Latte Sliders.  This is a remake of the Latte Sliders I posted earlier here, with directions.
 So this weekend, we are watching football from the warmth of our home.  I may even piece some mittens while we watch the games.  Have a great weekend and go Bucks!
   If you would like to shop, please click here to go to the online store, or use the carousel below to be directed to a specific product from today's card.  I would love to send you a set of four snowflake cards with packaging when you order $35 or more.  Order $50 or more, and I will include a pack of Foil Snowflakes, and you also get a Buckeye Point in my Loyalty Rewards program.  I appreciate your orders!