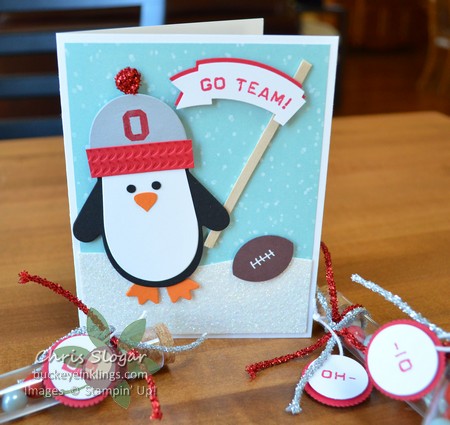 Have you seen the little penguins made from the Smitten Mitten Bundle?  They are too cute!  I think the idea originally came from Carrie Cudney at the Stampin' Up! office.  I dressed mine up as an Ohio State fan for this fun card.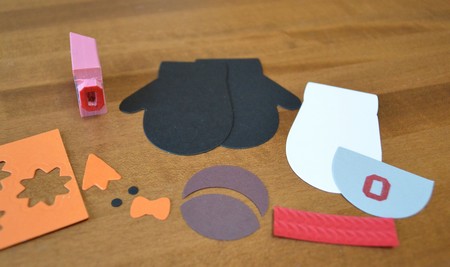 The body pieces are cut from the mitten framelits – you need two in Basic Black, and one in Whisper White with the "thumb" cut off.  The black pieces are almost completely overlapped so that they are just a bit wider than the white piece.
The cap is also cut with the mitten framelit, using just the rounded portion.  The cuff on the hat is a 1/2″ x 1 5/8″ strip of Real Red.  The feet come from one of the framelits in the mitten set.
The nose and eyes come from the Cookie Cutter Builder punch.  The football is from the 1 1/4″ circle punch, double-punched as shown in the picture.
If I don't mention it, I know someone will ask where I got my "block O".  I have been wanting a stamp like this for a long time, and even my Ohio State stamp set does not include a little block O.  I finally took matters into my own hands and carved one into an eraser.  It wasn't too hard to cut the straight sides with an exacto knife, but it took a little effort to dig out the center.
Have a great weekend and Go Buckeyes!!