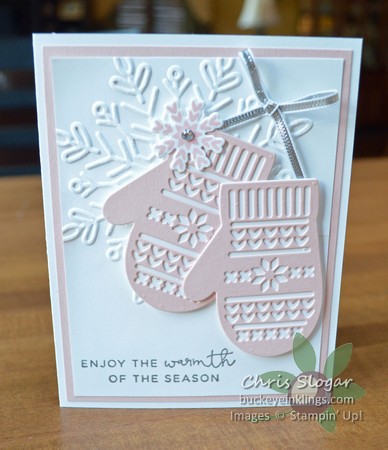 Have I mentioned how much I love the Smitten Mitten bundle?  🙂 I may have featured it a few times on my blog, but here's another example of why it is so great…this is a very easy card that ends up looking so special!  I simply cut the mittens from Powder Pink cardstock and accented with a few silver touches.
The sentiment from "Hearts Come Home" is heat embossed in silver, and while this doesn't show well in the photograph, it is striking in person.  I can never emphasize enough the added value of heat embossing.  It is always worth the extra step.
  If you would like to shop, please click here to go to the online store, or use the carousel below to be directed to a specific product from today's card.  I am sending a special gift with online orders of $35 or more this month.  Orders of  $50 or more also get a Buckeye Point in my Loyalty Rewards program.  I appreciate your orders!