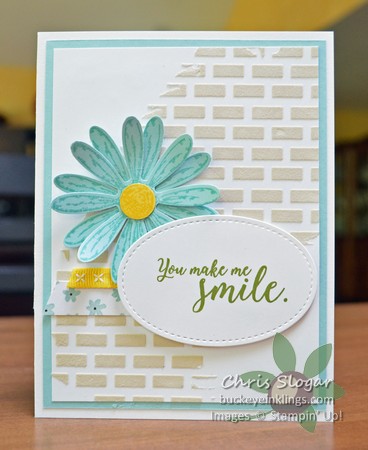 The Daisy Punch and Daisy Delight Bundle are now available in the online store.  For those who have been waiting for these, thank you for your patience!  If the popularity of these items in preorder is any indicator, they will continue to be in great demand.  Stampin' Up! has adjusted supply orders accordingly, but I would still get these items while you can.
Besides the daisy, my card uses another fun new catalog item – embossing paste!  This new paste is very light and quick-drying compared to embossing pastes I have used in the past.  I tinted the paste with my Crumb Cake reinker for this card.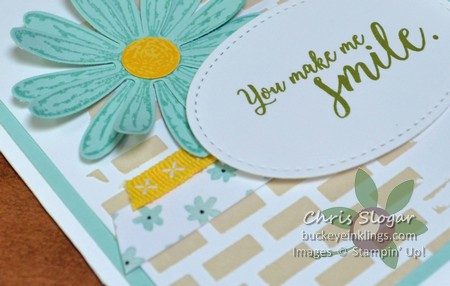 The paste is easy to spread over a mask – we also have a new collection of masks available – and the resulting texture is worth this quick step.
If you would like to shop for any of these great new products in the online store, click here, or use the carousel below to go directly to a specific product used in today's card.  The Daisy Delight Bundle is a great deal at $31.50 for both the punch and the stamp set.
Order $35 or more in June, and I will send you this gift.  Please use the Hostess Code listed.  You'll also receive a Buckeye Point in my Loyalty Rewards program for every $50 spent before shipping and tax.
Have a great day!