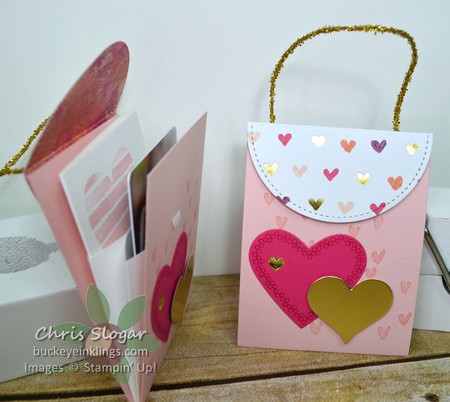 These gift card holders look like little shopping bags.  There are two pockets inside, and I am using one for a note card and one for a gift card.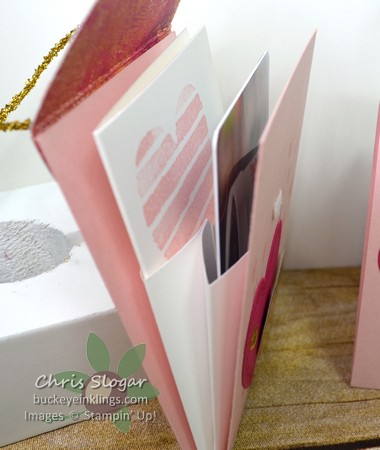 Here's a closer view of the accordion-style pocket, made from one Narrow Note Card envelope.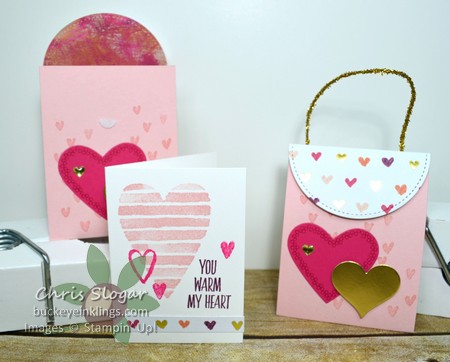 The note card itself is cut down to better match the height of a gift card.  I simply cut off one inch of the note card's length.  (If you wanted to use the full height of the note card, you could – you would have to add to the length of the Powder Pink cardstock accordingly, and your tote would be taller.)
Make sure to scroll past the instructional video to see two more examples – this project is very adaptable to other papers and themes.  If you are receiving this post in your email, click here for the video.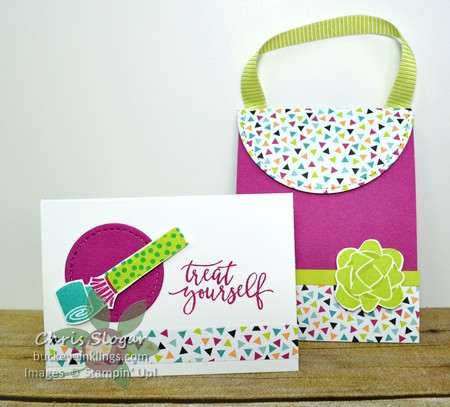 I used the Picture Perfect Party Suite here – with a 1″ strip of designer paper and a 1/4″ strip of Lemon Lime Twist along the bottom of the bag.  I used a 1/2″ strip of coordinating paper on the note card.
This one uses the Tutti Frutti Suite.  Again, I have a 1″ strip of designer paper on the bottom of the bag and a 1/2″ strip on the card.  The pear on the card is popped up on circles – 1 1/4″ Real Red, 1 1/8″ Lemon Lime Twist (scalloped) and 1″ Crumb Cake.
 I would love to have your business in the online store if you need any Stampin' Up! products.   Please click here to shop or use the carousel below to be directed to a specific product used in today's project.  I am sending a special gift with online orders of $35 or more this month.  Orders of  $50 or more also get a Buckeye Point in my Loyalty Rewards program in addition to Sale-a-bration benefits.  I appreciate your orders!