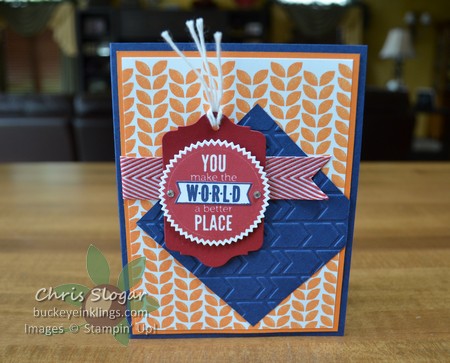 Have I mentioned the Project Life Everyday Adventure Card Collection?  Lol!  Now that I have fulfilled my promise to show you an actual scrapbook page (posted here), I feel that I can move on to another card.  I have not been able to resist thumbing through my box of Project Life cards as I work on projects.  That box is just so darn inviting!
I got my sketch from MOJO Monday.
The background piece printed with Pumpkin Pie leaves is from the Everyday Adventure Collection, and let me just warn you, the Project Life products are addictive!  I added my favorite greeting from Starburst Sayings, and the colors are Cherry Cobbler, Night of Navy, and Pumpkin Pie.
You can see more entries for this sketch challenge at MOJO Monday.
Have a great day!