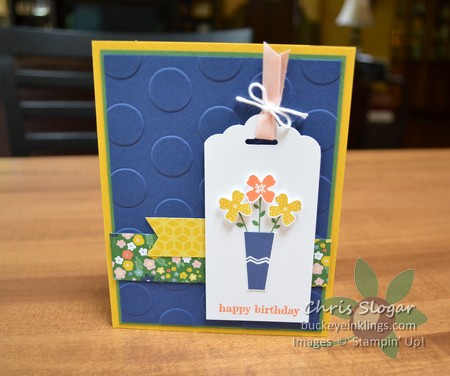 Sometimes I can predict which Card Buffet cards are going to be popular.  For example, I expected this Flowerpot DSP-inspired card to go over well, and it didn't disappoint!
Then, there was this unexpected gem…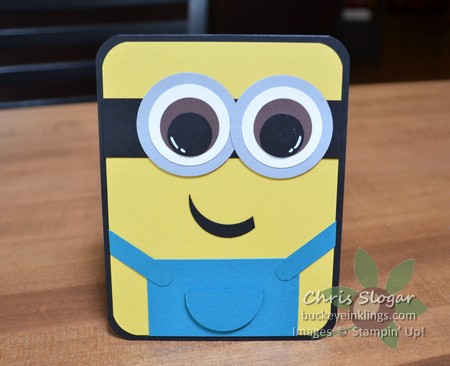 I didn't count how many we made of each, but these two cards were definitely at the top of the Card Buffet Leaderboard.
The Minion is an exact CASE of a Convention swap by Rosemarrie Gonzalez.  Let me give you some dimensions here, in case you have to have it too!
Daffodil Delight 4″ x 5 1/4″
Basic Black 4″ x 1″
Island Indigo 2 3/4″ x 1 1/2″, 1 3/8″ circle (cut for pocket) and Word Window straps
Eyes – 1 3/4″ Smoky Slate, 1 3/8″ Whisper White, 1″ Chocolate Chip, 3/4″ Basic Black
Mouth – crescent from 1 3/8″ circle punch
And let's go back to my "Pictogram Punches" card for more details…I love the late summer (or is it early fall?) look of these colors.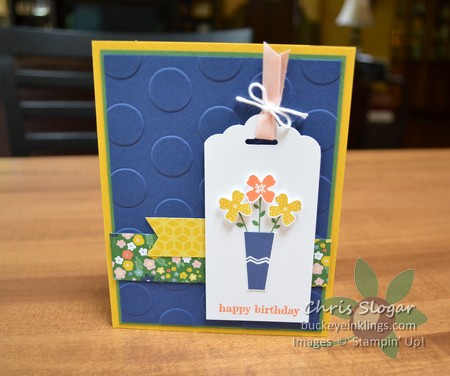 The Garden Green mat is 4″ x 5 1/4″.  The Night of Navy mat is 3 7/8″ x 5 1/8″.  The Scallop Tag Topper tag is 4″ x 2″.  The flowered strip of DSP is 1″ x 4″ and the Crushed Curry DSP is 3/4″ x 2″, with a flag end created using the Hexagon punch.  Keep that punch by your side for these flag ends – the strip goes in horizontally, so it is very easy to get it punched right.
Thanks for looking at this month's Card Buffet Faves!