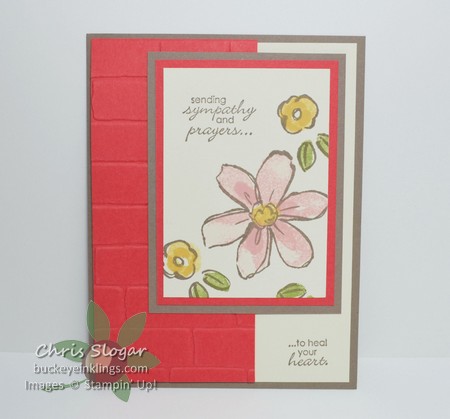 I know I have posted several "Garden in Bloom" cards recently, but I had to post one more today so I could show off this unique (and easy) fold.  I CASEd this card from Candy Michael's swap that I received at a Demonstrator event last weekend.  We made this card in our Team Meeting this weekend.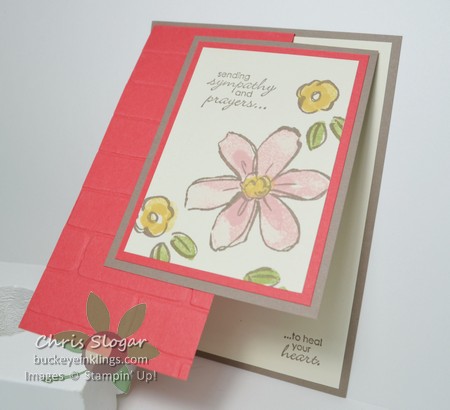 The two things I love most about this card are the shape of the front panel and the brick texture.  This is how it looks as it opens.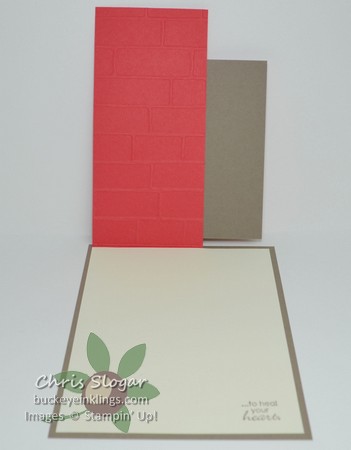 And this is the inside.  It is just a little different from our standard cards, and that is what makes it so appealing.
The Tip Top Taupe base is 4 1/4″ x 5 1/2″ with a 4″x 5 1/4″ Very Vanilla mat.  The Watermelon Wonder piece has a tab that is attached to the underside of the Very Vanilla mat before it is attached to the base.  The Watermelon Wonder piece measures 6″ x 2 1/2″, scored just less than 3/4″ from the edge to create the tab.
The panels for the image can vary, but here are the dimensions I used:
Tip Top Taupe 3″ x 4″
Watermelon Wonder 2 3/4″ x 3 3/4″
Very Vanilla 2 1/2″ x 3 1/2″
Here is Candy's card – as you can see I CASEd it almost exactly.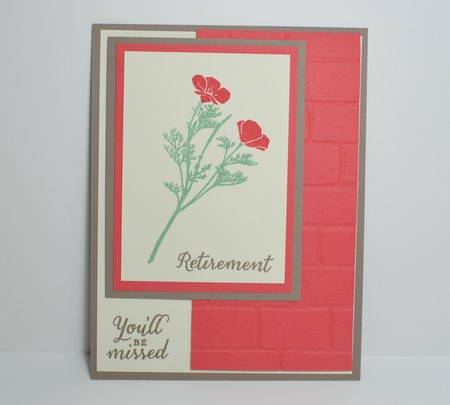 Her card uses the stamp set "Wild about Flowers" which has some great retirement sentiments that suit this card perfectly.  Note that we attached our panels on opposite sides. I did mine differently just to see how it would look.  You can decide which way to make it based on your image and sentiments.