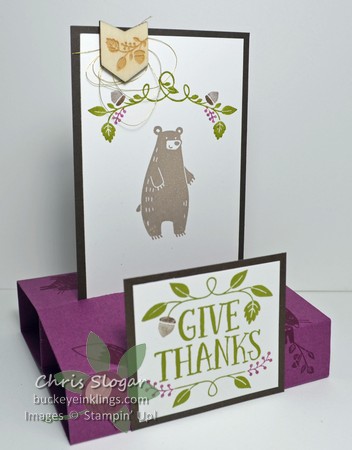 Some card recipients are definitely going to stand your card up on the mantel, or the windowsill, or the dresser…you get the idea!  I like these fun fold cards that stand up in a special way so that they can be displayed before they get pitched (or in my case, saved.)  This card folds flat for mailing.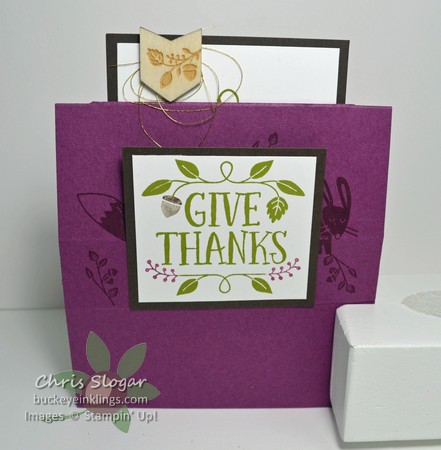 The panel with the bear gets pushed down into the base.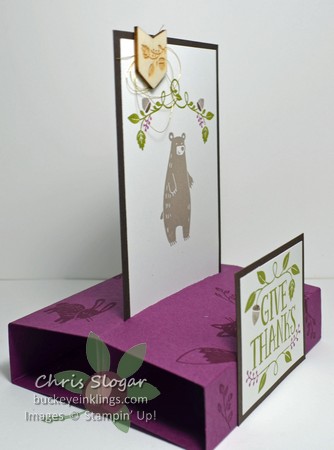 The Rich Razzleberry base is a 4 1/4″ x 11″ piece, scored at 1″, 2 3/4″, 3 3/4″, 5 1/2″, 7 1/4″, 8 1/4″ and 10″.  There is a slit cut along the 5 1/2″ score for the bear panel, and the sections at each end of the piece sandwich the bottom of the panel inside the base.  The Early Espresso mat for the tall panel measures 5 1/4″ x 3″.
We made this at club this month – it was a way to learn a fun fold and also practice inking stamps with multiple colors.  "Thankful Forest Friends" is such a great set to color!
While I am talking about Club, I also want to show you two Halloween treats that we have made in our last two club meetings.  The designs are CASEd, but they are both super-fun Halloween ideas that I am sure you will love as much as I do!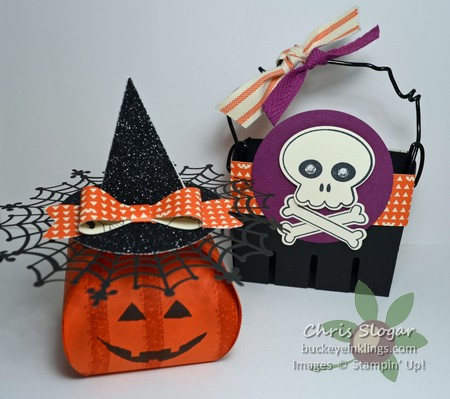 The Jack-o-Lantern Witch is by Janet Baker.  Click here for more details.  Within Janet's video, she has a great modification to make a clip out of the witch's hat, and she also gives ideas for Santa hats.  The basket on the right is a great modification of our Berry Basket – I saw this first on Erica Cerwin's site.  Click here for more details.  I added black wire to make a handle for my basket.
Have a great day!