Welcome to the Grand Vacation Achievers hop for October.  You may just be starting the blog hop here at my blog (Chris Slogar) or may have come from the person previous to me in the list. If you get off track at any time, the full lineup below will help you move along from blog to blog so you see all the projects.
Our projects this month are inspired by Project Life products.  Two things come to mind when I think of Project Life – pictures and simplicity.  The magnetic picture frame I have created features both.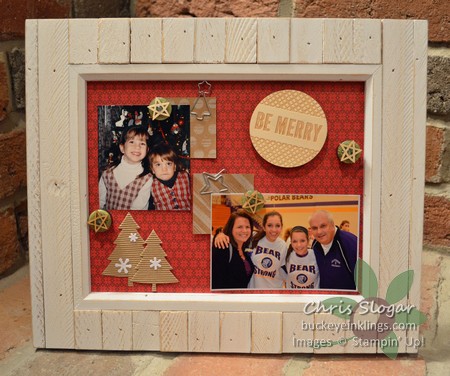 I cut a sheet of galvanized sheet metal 8″ x 10″ to fit my favorite frame.  I also cut a piece of Merry Moments designer paper to the same size.  I popped the glass and backing out of my frame, and inserted the designer paper and metal.  Then I replaced the glass and backing to hold it all together.
My embellishments are from the Seasonal Snapshot Card Collection and Accessory Pack.  I used hot glue to attach retired Old Olive buttons to magnets, and then I added one of those cool Project Life stars from the accessories to each button.  I also mounted the "Be Merry" circle on magnets, and I threw in some cardstock and cute clips.
Only the corrugated trees are actually adhered in place – everything else can be moved to suit the pictures.  I used a couple of our old Christmas pictures for this example, but I intend to replace them with pictures of friends and family as they arrive in cards this holiday season.
I made a smaller 5″ x 7″ frame to give as a gift.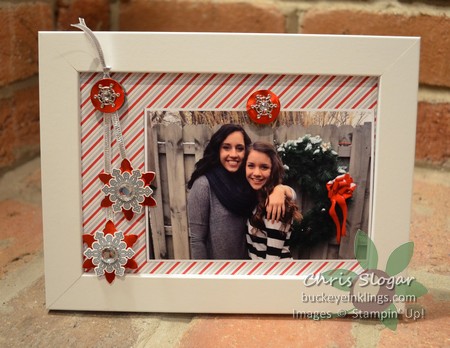 I used Merry Moments paper again here, this time with "Flurry of Wishes" snowflakes, Red Foil, Winter Wonderland Embellishments, and Iced Rhinestones.
You can cut galvanized metal to any size with tin snips, but I have also used full 24″ x 36″ sheets to make magnetic bulletin boards for my work space.  They fit right into Poster Frames, and they look nice.
Thanks for taking part in our blog hop, there are so many amazing ideas here!  Remember that currently you are at my blog – Chris Slogar – so check the blog hop line up list to see who is next in the list.  You are in for a real treat!