Today I want to show off some of the gifts I received at OnStage.  First, my roomie gift from teammate Carol Coy – this sweet bag that included a cardstock box of note cards and a wrapped candy bar 🙂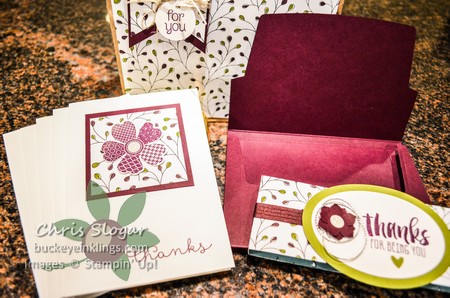 Here's a better look at the box – the belly band pulled off to reveal the fun envelope framelit-shaped flap.  Love it!!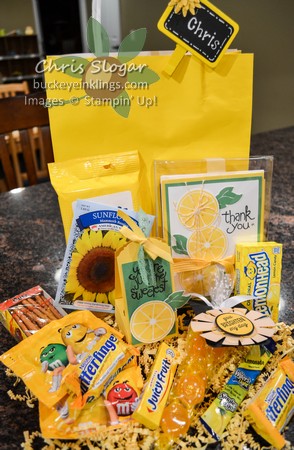 Next, this "Bag of Sunshine" from my upline Mindy Gray.  Doesn't it just live up to its name?  There are a lot of yellow snacks here – but also a package of 4 yellow cards, a 3D hand sanitizer (middle of picture with stamped lemon), and polka dot treat bag with sunshine tag.  So fun and cheery!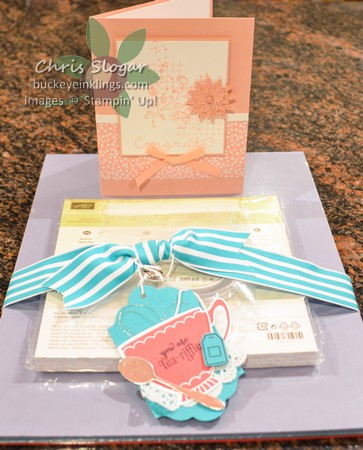 I also received this gift of products from Mindy – made so cute with the ribbon and tag!  I also received a project from Mindy that I will share soon.  I would like to make it first with my clubs this weekend, and I don't want to spoil the surprise for them.
And last but not least, these gifts from my upline's upline, Terri Meehan.  There is an adorable hand-crafted notebook with embossed initials and a coordinating luggage tag along with a very special bracelet.  On the right, the flower conceals a roll of Washi Tape – isn't that a cute idea?  It coordinates with the thank you card.
Like I said on Friday, there was a lot of swapping and gifting – it's always so fun, and I feel very spoiled with all of these beautiful gifts!
Check back later today for the Retiring List – I will post it as soon as it is available.  Don't forget, today is also the last day for the Weekly Deals shown below.  These are the last of the Weekly Deals, and there are a lot of good ones here.  In the future, Stampin' Up! will change the way it makes special offers.