Welcome to the Grand Vacation Achievers hop for August. This month we are providing a sneak peek at products that will be available from the fabulous 2016 Holiday Catalog beginning September 1.
You may just be starting the blog hop here at my blog (Chris Slogar) or may have come from the person previous to me in the list. If you get off track at any time, the full lineup below will help you move along from blog to blog so you see all of the projects.
I chose a Halloween set to use for my Sneak Peek.  The set is called "Spooky Fun", and there are coordinating framelits.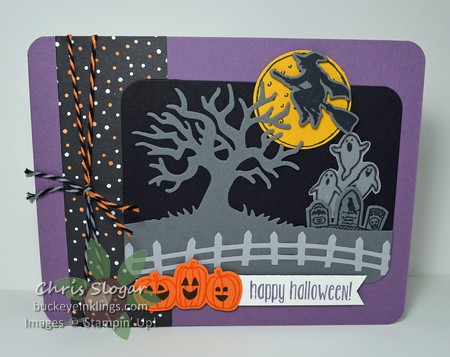 It was spooky-fun to put together this little scene!  There are a lot of pieces, but you can cut several at a time on the Magnetic Platform.  The pictures below show the steps I took to assemble the scene.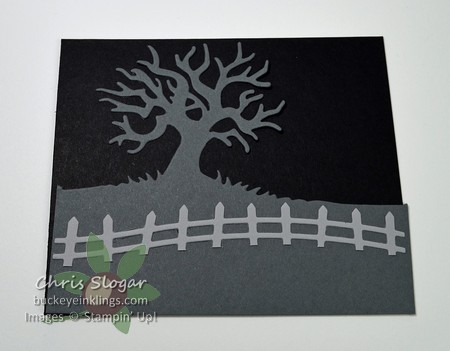 I cut a Basic Gray tree and a Smoky Slate fence.  I used my Fine Tip Glue Pen to attach the fence to the tree piece.  I then attached the tree piece to a 3 1/2″ x 4 1/4″ piece of Basic Black, but I did not use glue on the tree branches in the area of the moon.  I also did not apply glue close to the top edge of the ground line.  I did not worry about aligning the edges of these pieces.
With these pieces attached, I cut the outer edge of the scene with one of the Project Life framelits.
Then I slipped the moon under the tree branches and glued it in place.  I slipped the tombstones under the top edge of the groundline, and glued them in place.  At the same time, I tucked the ghosts under the tombstone.  The ghosts are stamped on vellum.
I also want to point out the fabulous Halloween Night Baker's Twine and Designer Paper.  What a fun suite of products!
 Thanks for taking part in our blog hop, there are so many great projects here.  Remember that currently you are at my blog – Chris Slogar – so check the blog hop line up list to see who is next, and enjoy!