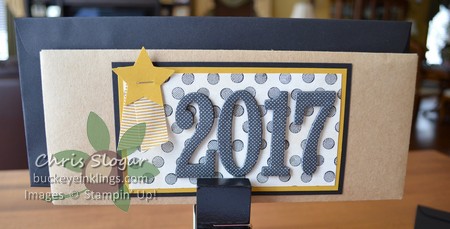 I designed this oversized coin envelope to hold a long pocket card for cash or a check.  It is a great way to present a graduation gift, and it also fits in a #10 business envelope.  I found some in #10 envelopes in black, and they suit my Urban Underground color scheme perfectly.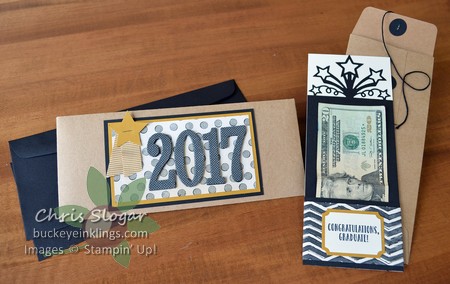 You can see the back of the envelope on the right.  I made the envelope with the Gift Bag Punch Board, and it uses a button and string closure.  The long pocket card is cut with the Star Blast Edgelit.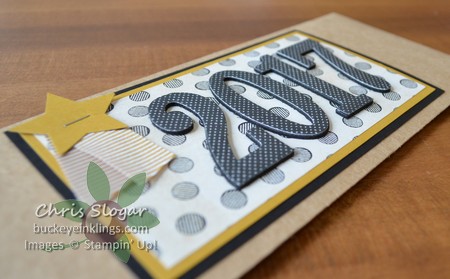 I used the Large Numbers framelits to cut these numbers.  Can you see how the designer paper layer on the numbers is popped up on a thick black layer?  That black layer is 2 mm fun foam from the craft store.  You can cut it with the framelits too!
I made a version with a "TO/FROM" on the envelope as well, using "Labeler Alphabet" to stamp the words: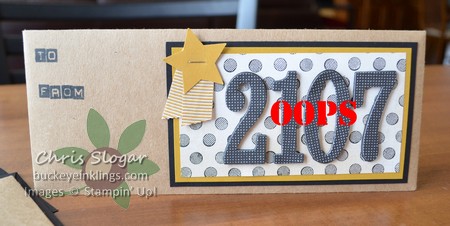 If you make it this way, just don't glue your numbers down in the wrong order like I did!  I couldn't move the numbers without tearing the paper, but I thought this one still worked as a sample.
The video gives more detail, and I have also included dimensions below.
Envelope:  Kraft Cardstock   11 1/2″ x 8″, scored at 2 1/2″ and 6 1/4″
Basic Black 5 1/2″ x 3 1/4″
Delightful Dijon 5 1/4″ x 3″
Designer Paper   5″ x 2 3/4″
Pocket Card:   Basic Black   3 3/8″ x 11″, scored at 2 3/8″
Very Vanilla   3 3/8″ x 8 1/2″
Designer Paper   2″ x 8″
In the video, I also referenced this tried-and-true favorite for graduation gifts.  This project is a little less involved, and it uses the Envelope Punch Board.  It's an old project that I remake every year.
The one in the video is from 2015 – here's how I made it last year: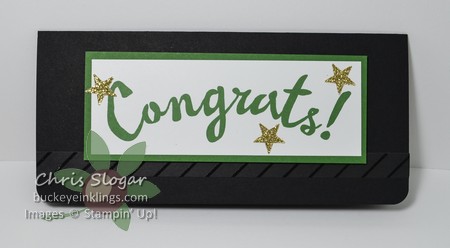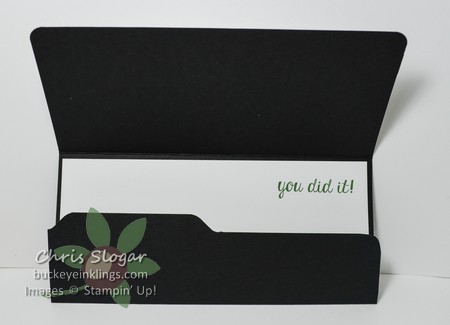 Hope this gives you some good ideas for your graduation projects!  Don't forget that purchases of $50 or more still earn Sale-a-bration freebies, through the end of March.  A $50 order also earns a Buckeye Point in my Loyalty Rewards program, and I will send you my featured project.  Click here to go to the online store, or use the carousel below to go directly to any of the products in today's project.
Have a great Monday!