With designer paper, a beautiful stamp set, faceted gems, coordinating ribbon and a punch (big YAY for the punch!!), the Delightful Daisy suite does delight!  It will be available starting on June 1 when our 2017-2018 Annual Catalog sales period begins.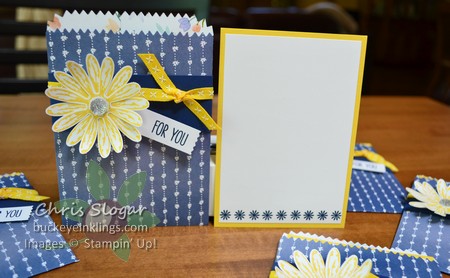 I made pocket cards with the Mini Treat Bag Thinlit.  I have been reaching for that thinlit a lot lately – I guess it's because I love to show off the designer paper!  You can make 5 of these bags with two 12″ x 12″ sheets of designer paper.
As we await the new catalog, there are still awesome deals to be had in the store.  Many of the retiring items are discounted, and the Clearance Rack was updated recently.  Please visit the online store for prices.
Order $35 or more, and I will send you my Featured Card (the Jar of Love pocket card, through the end of May).  Orders over $50 also qualify for a Buckeye Point in my Loyalty Rewards Program.  Online Customers will also receive a new Annual Catalog.
Have a great day!