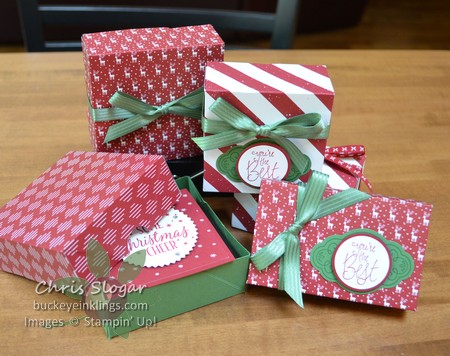 I am really excited about these gift boxes for two reasons.  First, they show off our designer papers – and thanks to the range of papers available, they will be adaptable to so many occasions.  Second, the sizes can be easily adjusted as needed.
This Christmas paper is from the Be Merry collection, already available in our Annual Catalog.  We made the striped version of this box in club.  It measures 3″ square, and it is 1 1/2″ high.  The first half of the video below gives detailed instructions on the scoring and construction of this box.  The box bottom is made from a 6″ square of Garden Green cardstock; the top is made from a 6″ square of designer paper.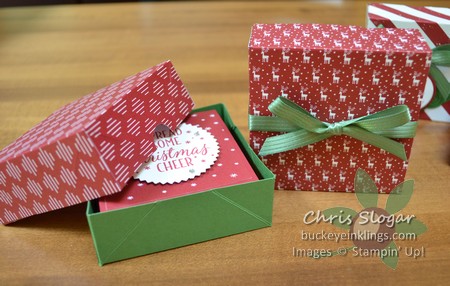 This is a slightly larger square box – it measures 3 1/2″ square, 1 1/4″ high.  It is perfect for sets of 3″ square cards and 3 1/8″ envelopes.  Good news…these envelopes will be available again from the Holiday Catalog starting September 1.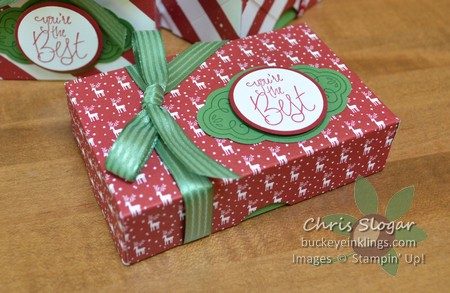 This same method can be used for rectangular boxes.  This one is 2 1/2″ x 4″, and 1″ high.  The second half of my video shows construction of this rectangular box and the note card box shown above.  You are not limited to the box dimensions I am showing, though, just follow the method to make different sizes.  The only restriction in that the height of the box cannot be more than half the length of any side.
Click here if you would like to shop – any support I receive through your purchases in the online store helps me to continue to provide tutorials (free and ad-free, as much as possible.)
Order $35 or more in August, and I will send you a Delightful Daisy Twisted Gate Fold Birthday Card (unmarked for your use) and a pack of our new Mini Dimensionals.  Please use the Hostess Code listed here on orders under $150.  Orders over $50 also earn a Buckeye Point in my Loyalty Rewards program.
Have a great day!