Welcome to the Grand Vacation Achievers hop for September.  This month we are featuring our favorite products from the 2017 Holiday Catalog.
You may just be starting the blog hop here at my blog (Chris Slogar) or may have come from the person previous to me in the list. If you get off track at any time, the full lineup below will help you move along from blog to blog so you see all of the projects.
I am featuring the Smitten Mitten Bundle.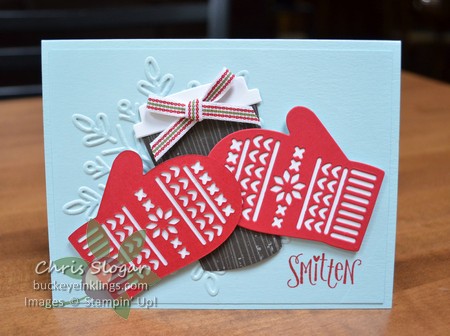 The framelits that coordinate with this stamp set include a detailed thinlit that cuts the pattern that you see here in Real Red.  There is a solid white mitten shape behind each Real Red piece to complete these red and white mittens.  The cup is cut from Coffee Break Designer Series Paper with the Coffee Cup Thinlits.
I am featuring two other new favorites here too – the embossed snowflake made with the Winter Wonder folder and the Quilted Christmas ribbon.
"Smitten Mittens" also includes two-step stamps to stamp mitten parts.  The card below (previously posted here) shows just a few of those builder stamps.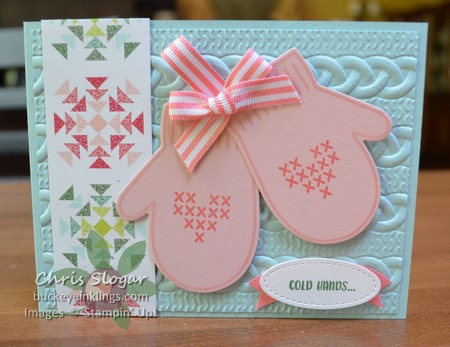 This bundle will be a favorite of mine well beyond Christmas!
 Thanks so much for taking part in our blog hop.  Remember that currently you are at my blog – Chris Slogar – so check the blog hop line up list to see who is next, and enjoy!