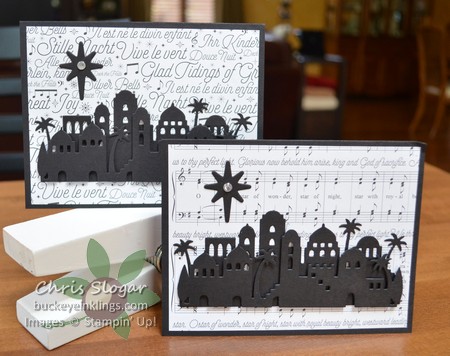 Today I'm showing two of my favorite things from the 2017 Holiday Catalog, and these two things alone make a great card.  The two things are the Bethlehem Edgelits and the Merry Music Specialty Designer Paper.
First, let's talk about the designer paper.  It is lightweight for layering, and there are 24 sheets in the pack for $13.  There are four 12″ x 12″ sheets of each design; three of the designs are black on white, and three are white on black.  Printed with Christmas Carols, they are so versatile for all of your Christmas projects.
And then there are these gorgeous detailed edgelits.  I used three of the five edgelits from the set, and I cut them from a quarter sheet of black cardstock in a single pass on my Big Shot.  These edgelits make it so easy to create a scene that is reminiscent of the first Christmas.
I have not used it here, but there is a stamp set available to bundle with the edgelits.  It does offer great greetings and additional versatility.  I'll include the bundle options in the Carousel in case you want to check them out.  Otherwise, the carousel would have been only four items for this card!!
Here is a card I posted previously using the stamps…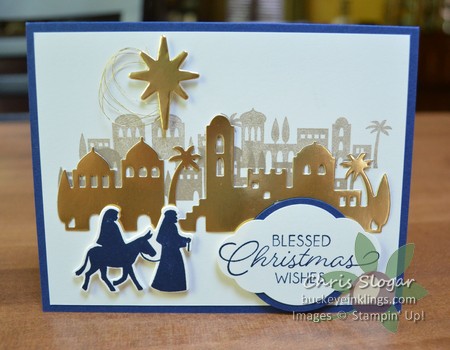 Please click here to go to the online store, or use the carousel below to be directed to a specific product.  I would love to send you a set of four snowflake cards with packaging when you order $35 or more.  Order $50 or more, and I will include a pack of Foil Snowflakes, and you also get a Buckeye Point in my Loyalty Rewards program.  I appreciate your orders!