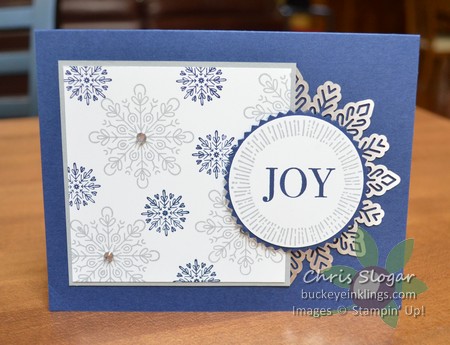 This is one of the cards we are making in class this week.  It is a simple and striking holiday card.  I CASEd this card from fellow demonstrator Jan McMullen; she presented it at an event in Columbus in September.  The silver foil snowflake stands out beautifully against the Night of Navy card base, and it is fun to stamp a background print as I have here with the Navy and Smoky Slate snowflakes.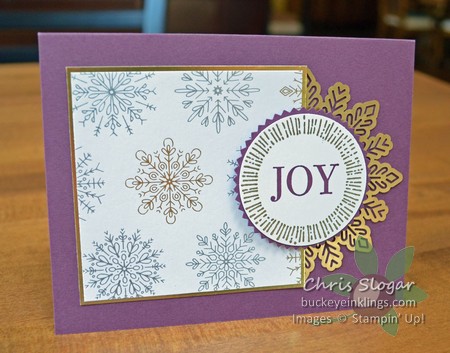 This card is very adaptable to different color schemes, and you will want to use those gorgeous gold foil snowflakes too.  I used Fresh Fig here, and I used a square of the Year of Cheer specialty designer paper to make this version even easier.  The designer paper is already embossed with silver and gold snowflakes.
In either of these designs, the snowflake panel measures 3 1/4″ square, and the mat (Smoky Slate or Gold Foil) measures 3 3/8″.
  If you would like to shop, please click here to go to the online store, or use the carousel below to be directed to a specific product from today's card.  I would love to send you a set of four snowflake cards with packaging when you order $35 or more.  Order $50 or more, and I will include a pack of Foil Snowflakes, and you also get a Buckeye Point in my Loyalty Rewards program.  I appreciate your orders!